Team Member Spotlight: Kris Oberg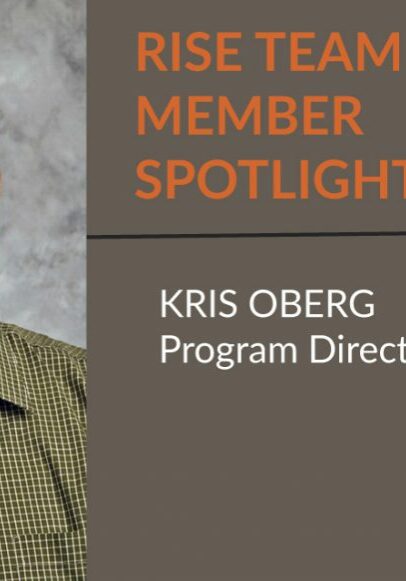 With an innate ability to meet people where they are and have fun along the way, Kris Oberg has been building a career supporting people at Rise for the past 25 years. He has progressed through his career, transitioning from one position to another, each with added skills and responsibilities.
In his current role as a program director, Kris oversees all Washington County Day Training and Habilitation programs at four locations, including Oakdale, Cottage Grove, Stillwater, and Forest Lake. His primary responsibilities are managing all licensing and requirements for programs, supporting supervisors and case managers, fulfilling various roles on leadership committees, serving as the main contact for all things Washing County, and more.
When asked what he enjoys about Rise, Kris says, "I like that I can just be myself and others can be themselves. I like to have fun while I work, and others at Rise do, too. I also love the authenticity of the people we serve and understand that everyone has good days and bad days."
That insight, along with his resilient nature, has helped Kris successfully support both people served and staff since 1994 when he started as a part-time job coach at ESR, Inc. He then became a full-time van driver and job coach before going back to college at the University of Wisconsin – River Falls for his bachelors and master's degrees in education.
While a college student, Kris worked part-time, seasonally as a direct support professional (DSP) on the production floor. Once he graduated, he came back full-time to a DSP position, specializing on a community jobs team. He later took on a DSP job supporting someone one-on-one in competitive employment and community integration.
After being in that job for a year, Kris transitioned to an employment consultant position in which he did case management and provided support for people who are competitively employed. Later Kris became the program supervisor of employment consultants. In 2016, Kris assumed the position of program director, overseeing the Oakdale and Cottage Grove program sites;  in 2019, he moved into his current role after Rise acquired ESR.
"I really love the collaboration and what functions much like a 'bottom-up' structure at Rise. I'm here to support the people on my team, and Rise empowers me to do that."
Away from work, Kris enjoys spending time with his wife, dog, and two cats. He likes Star Wars and comic books and plays classical guitar.
Thank you, Kris, for your leadership and dedication to serving people with integrity and humor!