Meet February 2021 Rise Champion of the Month, Samuel Koheneh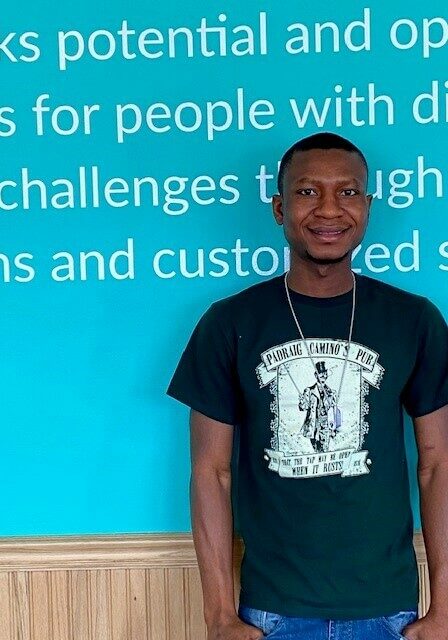 Our second Champion of the Month for February 2021 was Samuel Koheneh, who has worked for Rise for two years as a production team lead. In that time, Samuel has shown incredible dedication in all the work that he does. His coworkers noted that he always shows up to work with a positive attitude. They said that Samuel "excels in getting production completed in a timely manner and ensuring that all persons served have plenty of work to keep them busy for the day."
Before coming to Rise, Samuel worked at Medtronic in the Medical Assembly field. Today, he also works part time at Mains'l Services Incorporated, which offers resources and services to individuals to help them live a life of their choosing. Samuel works in a group home for Mains'l and helps those who live there bring changes into their lives and helps to ensure they are living their lives how they want to. Samuel, in everything that he does, aims to help people in whatever manner possible.
Samuel's coworkers said that "persons served enjoy working with Sam and appreciate his positive attitude and helping them get used to some of the changes that Rise has had to make." They also appreciate Samuel's help on the work floor and assert that the CBTE program would not be able to expand, nor would they be able to bring persons served back to work, without his hard work and dedication.
When asked about why he chose to work for Rise, Samuel said that he appreciates the team members and staff, and notes that Rise is the first place he has ever worked where he sees managers and supervisors working on the floor with the rest of the employees. He also appreciates that Rise always puts their people first. In terms of his own work, Samuel is most proud of helping people, including his coworkers, to bring changes into their lives.
"What I like most about my job is the people we serve. I always like to be around, make them feel happy, and we have fun together as well." ​
In his free time, Samuel enjoys travelling, playing soccer, volunteering, cooking, and exercising. He also enjoys spending time with his daughter, family, and friends.
*Thanks to Jillian McNett for putting together this feature!