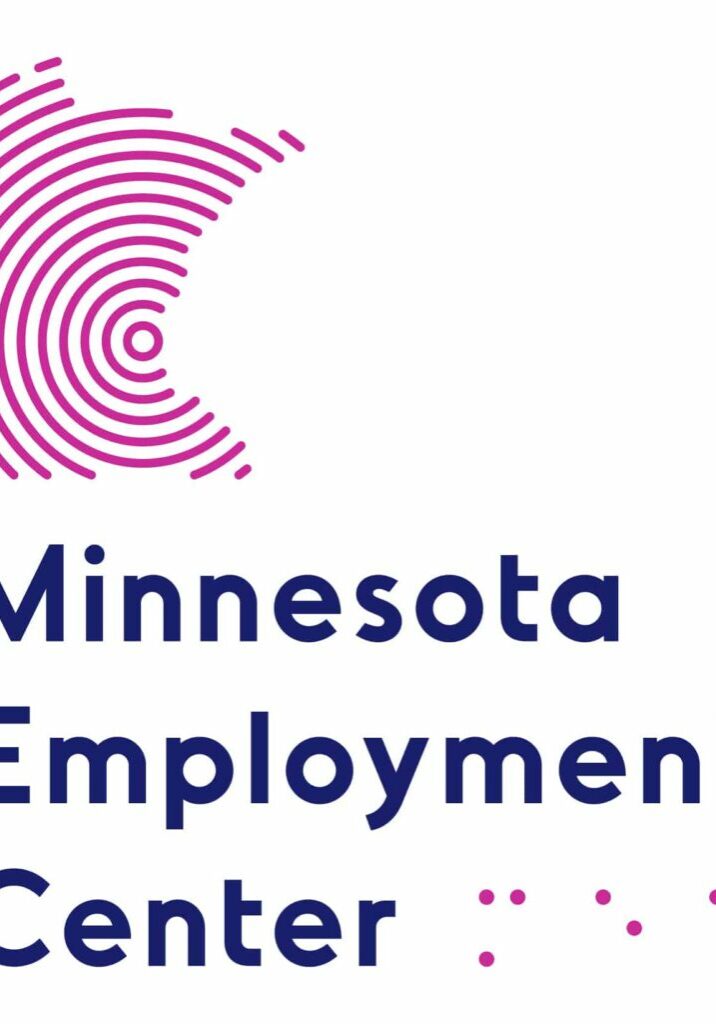 Han Burrell's work piles up in the dish room of Concordia College's dining services in Moorhead, Minn. That's the nature of his job, which requires him to keep the dishes clean for approximately 1,900 students six days a week. "I enjoy my work," Burrell said through an American Sign Language (ASL) interpreter.
Because Han is Deaf, work conversations with his managers and coworkers often happen through handwritten notes and text messages. It's a scenario repeated across Minnesota's Deaf, DeafBlind and Hard of Hearing workforce. But Han isn't alone. His Minnesota Employment Center (MEC) Occupational Communications Specialist Becca Hinckley supports him. "When you work with MEC, we don't just work with individuals, but the companies too. We have the resources and connections to ensure that placement or follow- up services go smoothly for all parties," Hinckley said.
Hinckley, who is also fluent in ASL, is based in the Fargo-Moorhead area. She is one of 14 MEC team members providing employment support services to Deaf, DeafBlind and Hard of Hearing people across Minnesota. In 2022 MEC supported 185 employers and Minnesotans who worked to discover new skills, explored career opportunities, and found meaningful employment.
Hinckly began working with Burrell in 2018 and checks in with him daily. Supports include ensuring interpreters are present at work events, working on transportation to work, and explaining his benefits and schedule changes. She has also facilitated Deaf culture training with Burrell's team and set up supports which allow him to work independently.
Three decades of support
We are celebrating MEC's 30th Anniversary in 2023. The program began because people referred to Rise's Vocational Rehabilitation Services (VRS) job programs were having difficulty maintaining
employment. "Communication issues or another concern would pop up, and people would quit. Then they would come back to VRS and start again. It became a cycle, and we realized there was a need for a program with a specific goal to support job stability in the Deaf community," said MEC program manager Sheila Ritter.
In 2015 MEC expanded outside the Twin Cities Metro. Growth was slow, and many local organizations were skeptical that the new support services from MEC would last because other programs had not. "Supporting people in rural areas is very different from urban areas," Ritter said. "Up until that point, there hadn't been a person-to-person connection with people. We've been fortunate to have many long-term team members, like Becca, who have provided stability."
Hinckley, who has been with Rise for six years, continues to devote work time to educating employers while supporting the people she serves. "Most employers I have encountered have never worked with a Deaf, DeafBlind, or Hard of Hearing person. They depend on me for education about Deaf culture. There is also a lack of interpreters in our area, which can cause delays during the interview and onboarding period, and that's frustrating," she said.
New services on the way
MEC is continuing to change and grow to offer more person-centered support. In the summer of 2021, the St. Paul office relocated as a result of a new partnership with ThinkSelf, a Deaf-led adult support organization that provides education, literacy expansion, goal-setting and workforce readiness. Future initiatives will will bring support programs in line with statewide changes that blend VRS services and waiver funding. Those plans are still being formed, but eventually could lead to additional growth, including more people to support, new funding mechanisms and likely more team members too.
Robert Reedy, senior director of vocational servies at Rise, says figuring out how many people could eventually be served is difficult because state data is currently unavailable. "Deaf people are underserved because there aren't enough support people who are qualified to meet their needs," Reedy said. "They haven't always been able to receive services from someone who understands what it is like to work with someone who is Deaf, DeafBlind, or Hard of Hearing."
Hinckely is one of those qualified people. She says providing specialize services to meet individuals' needs is fulfilling. "My favorite part of the job is watching the people we support land dream jobs and watching them grow and succeed," she said.