Mark Brown personifies 'more doing' at Home Depot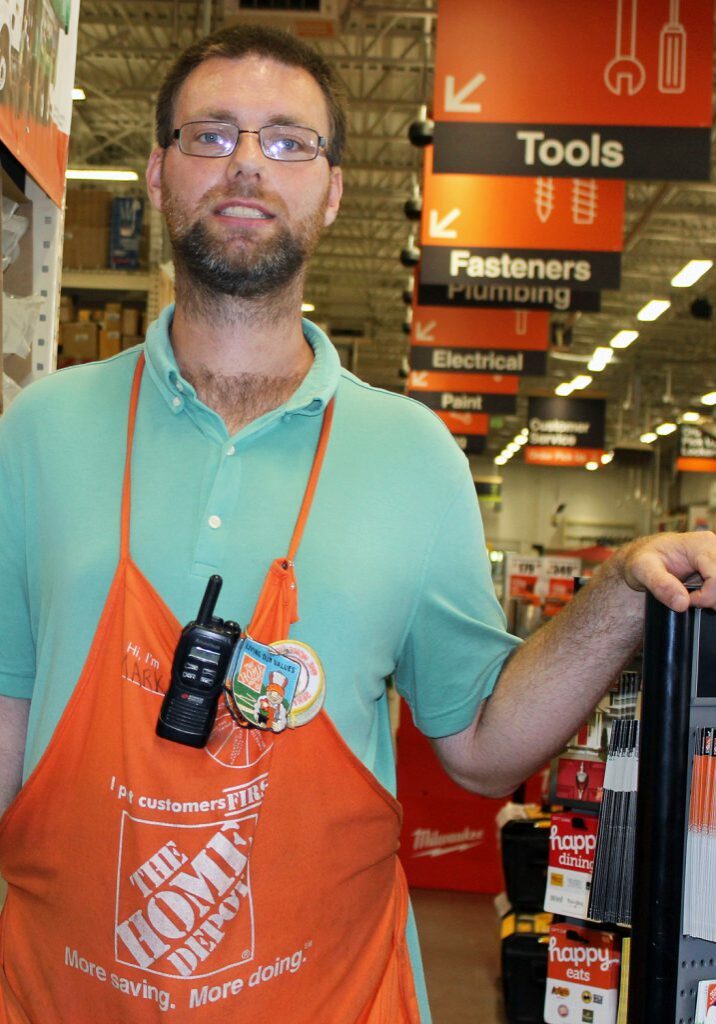 Little did he imagine when hired as a part-time seasonal employee in the summer of 2013 at the Home Depot store in Blaine, that the opportunity would turn into a permanent competitive job.
No stranger to hard work, Mark Brown had worked with a Rise Coon Rapids work team at HOM Furniture for a few years as well as on Rise's lawn and snow removal crew. When he felt he was ready for independent employment, his Rise team members assisted him in career planning, a job search, and follow-up support services.
After starting off watering plants in Home Depot's nursery, six years later, Mark's list of job duties is extensive. Depending on which shift he is working, his many tasks include helping customers load purchases into their vehicles, retrieving carts from the parking lot, flat-stacking lumber, front-facing shelves, filling the pop and water coolers, cleaning up any floor messes, snow removal on the sidewalks and entrances, taking out the garbage, and assisting customers; he is also a back-up cashier.
With all his experience in so many different areas, as well as his attention to detail and solid work ethic, Mark has served as a "new associate coach." In this important role, Mark helps new employees learn the different job duties, answers their questions, and gets them off to a great start.
When asked what his favorite part of his job is, Mark said, "So many things – but especially my co-workers! We are definitely a team. I also really like the fact that Home Depot hires people with special needs."
Mark recently asked his manager if he could wear a shirt to work with a symbol called the "puzzle piece for autism" which reflects the complexity of the autism spectrum. The different colors and shapes represent the diversity of the people and families living with the condition.
"I don't know for sure if I have autism, but I thought it would be a good way for people to know where I'm coming from when I get frustrated," Mark said. "The more people who understand about autism, the better it will be for me and other people."
Mark also proudly wears more than a dozen embroidered Home Depot awards pinned to his work apron indicating the many times he has been recognized by his supervisors for his exceptional work and customer service.
QUOTE FROM HOME DEPOT MANAGER QUOTE FROM HOME DEPOT MANAGERQUOTE FROM HOME DEPOT MANAGERQUOTE FROM HOME
Working 25 to 30 hours a week at Home Depot leaves some time in his monthly schedule to continue to work with a Rise team at ABC Foods in Elk River, if he chooses to.
"I really like that I can still work at ABC or at Rise Coon Rapids, if I want," Mark noted. "But I hope to work at Home Depot for a very long time."
Mark, who is 31, recently reconnected with his birth family and is enjoying spending time with them. A 2006 graduate of Coon Rapids High School, Mark was adopted when he was ten years old. His father is a youth coordinator for a local school district and Mark enjoys spending time with special needs kids with his dad. Mark also likes playing basketball, collecting spiders, and going to movies.
This article appears in the September 2019 issue of the Rise Reporter.