Volunteer Liam Moran lends his expertise to assist people better understand critical financial issues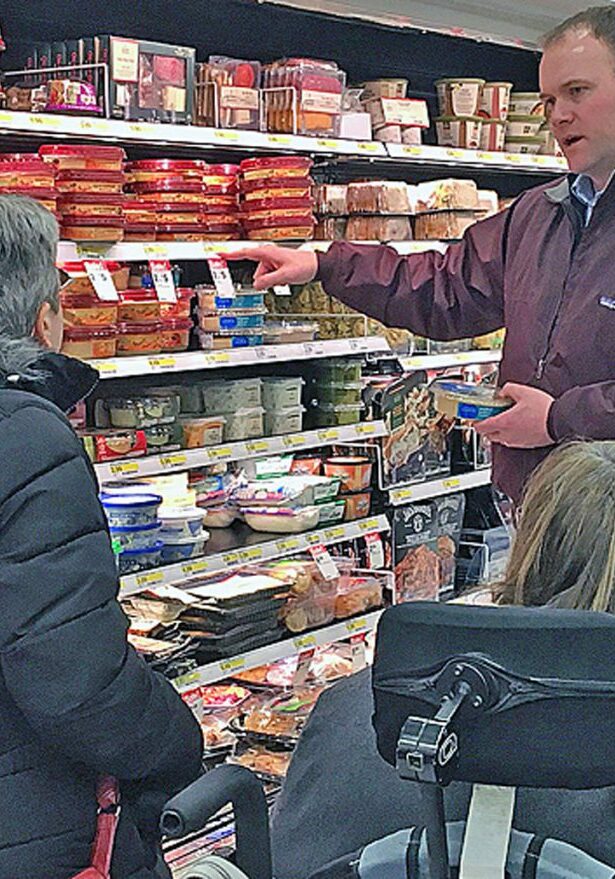 On just their third meeting with volunteer Liam Moran, the trio was on a mission in a local Target store to learn more about making good purchasing decisions within their budgets. You could call this session, Real Life Spending 101. As they moved through the various departments throughout the store, Liam and the data entry clerks from Rise's Data Ability program in Spring Lake Park discussed many aspects of smart shopping.
Liam had the group reading labels and doing the math. His goal was to take some big, often challenging concepts about finances and break them into easier to grasp ideas using daily life examples.
He asked them thought-provoking questions, and they in turn, started asking themselves some new questions:
Am I shopping for myself or a party? Can I eat a whole bag of oranges before they start to go bad or should I purchase just a few at a time? Is it less expensive to buy a 12-pack of pop or purchase a can in the vending machine everyday at work? Is it worth spending more for a name brand or is the generic version just as good? Should I stick to my prepared shopping list or is OK to buy something I want, but don't really need?
All three found Liam's shopping tips to be quite helpful. "I learned that taking time to compare prices can help me save money," said Rachel Niedringhaus.
Liam is an associate client advisor with J.P. Morgan Private Bank in downtown Minneapolis. Originally from Alaska, he completed his undergrad degree at Notre Dame, and served eight years in the U.S. Army as a platoon leader and company commander with aviation squadrons in Germany and Texas. Liam earned an MBA from the University of Virginia.
As an Army leader, he had counseled and mentored many soldiers. In his post-graduate studies, Liam taught finance and entrepreneurship classes in a prison. When he moved to Minnesota last summer after getting married, he was looking for a good way to use his education and experience to help others.
"I did a Google search for interesting volunteer opportunities and came up with Rise," said Liam. "I thought it would be a good fit."
In his first meeting with Data Ability clerks, the group discussed financial issues and concerns. A few weeks later, Liam brought them a budgeting worksheet for each to enter and keep track of their income and daily expenses.
It was an eye-opening revelation for all of them. For instance, Brian Hoffman was surprised to realize just how much he was spending on vending machine snacks at work. "WOW!" he said. "I could go on a nice vacation with that kind of money."
Liam is invited to make a presentation at the March meeting of Rise's Self-Advocacy Council to share his financial knowledge and support them as they hone their advocacy skills. He plans to assist with other work teams at Rise's various Twin Cities locations in the coming months.
When asked why he chooses to spend his time volunteering at Rise, Liam answered, "I feel like I'm making a contribution to the community. At J.P. Morgan, we focus on developing stronger communities through financial health. Many of my co-workers volunteer their time in some way to help in that endeavor. I have a flexible work schedule so this works out well.
"This is really fun for me and I enjoy telling my friends and co-workers about my times at Rise," Liam added. "I hope that I am helping them make good financial decisions as well as build their skills and confidence levels in other areas of their lives."