Kari was an inspiring woman who expressed herself through art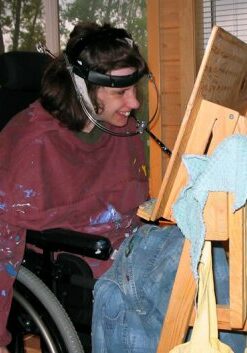 Rise team members and people we serve were deeply saddened by the recent death of Kari Wagner, who worked as a data entry clerk at Rise Crystal. She passed away May 13 at the age of 44.
Kari was a gracious woman who had a deep and abiding faith, worked hard, loved her friends and family, and was the treasured daughter of Gary and Nancy Wagner.
While Kari's cerebral palsy may have prevented her from speaking, she did not have any difficulty expressing herself – especially through her exquisite artwork. From the moment an art therapist strapped a paintbrush onto Kari's forehead, she was excited to find her voice and demonstrate her talents through art.
Over the years, Kari has exhibited her work in various art shows, commercial settings, coffee shops, and other public venues. She set up an online site to sell her work to help fund the Expressions of Faith Fund which supports art therapy and other cultural programs to assist people who have disabilities express themselves.  You can learn more about her work at her website.
Kari and her parents were featured in a video production which debuted at the 2018 Celebrate Rise Fundraising Gala. You can watch it here:
On behalf of everyone at Rise, we extend our sincere sympathy to Gary and Nancy, as well as Kari's extended family and many friends. Kari will be sadly missed.
This article appears in June 2020 Rise Reporter.