Jordan gains confidence and learns new skills in growing job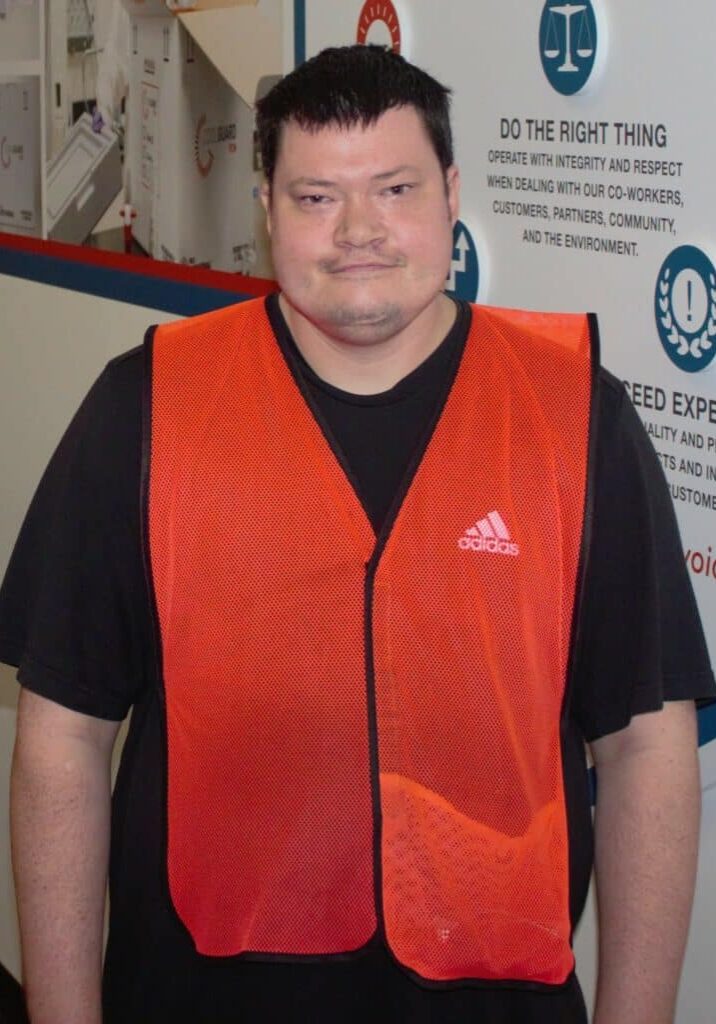 For Jordan Rock, 33, an opportunity was on the horizon last fall. After being connected to Rise following high school, Jordan spent the last decade building his work experience with various local Rise partners. As Rise began a new relationship with Peli BioThermal in Maple Grove, MN in 2021, Jordan took the opportunity to join a new team.
Jordan works six hours a day, five days a week. Describing his responsibilities at Peli, Jordan says, "I assemble and pack insulated coolers and palletize boxes full of them for shipment." These coolers are often used for storing and transporting organ and blood donations. "I can get eight to 10 pallets done a day, and each pallet has anywhere from four to 36 boxes assembled on it," shares Jordan. Jordan also shrink-wraps pallets and organizes final assembly before shipping using either a manual or electric pallet jack, which he said is his favorite task at work.
One of the people Jordan sees on a regular basis at Peli is Amanda Dircks, a program supervisor with Rise. "I oversee direct support professionals and connect with the people we serve at our work sites to provide support," said Amanda. Peli is one of a handful of work sites Amanda visits on a weekly basis to be available as a resource for Rise DSPs and people at work. Jordan turns to Amanda and says, "You do a lot for us, that's for sure."
Amanda also works with people as they explore new job options, as she did with Jordan. As Amanda describes, "Work like this opens up numerous opportunities for a sense of meaning and belonging to the community." Additionally, Amanda is always available to help people navigate communication barriers, advocate for their needs at work, and take advantage of opportunities to learn new skills. Jordan shares, "If anything comes up, Amanda will help me with it."
Learning new skills and gaining confidence in the workplace is a part of Rise's work with people every day. "I am a very good worker and very independent. I've grown a lot here, especially when it comes to handling all the tools and learning to work the pallet jacks," shared Jordan. Amanda has plenty of kind words to share about Jordan. "Jordan is so great. He is one of the most hardworking people you'll ever meet. He's very smart and capable."
Jordan has made his mark at Peli, even after less than a year on the team. When asked how he describes Jordan as an employee, Peli BioThermal Production Supervisor Stefan chimes in with, "He sets the bar for what I look for in behavior and outlook for an employee. Jordan is a joy to work with and he radiates good energy." This opinion about Jordan extends throughout the team at Peli. "Our team members debate over who gets to work with him most days," Stefan said with a smile. This includes the production, assembly, and shipping departments. Regarding the relationship between Peli and Rise, Stefan remarks, "I can always count on Rise to fill our workforce with consistent and reliable workers. They pour their heart into their work and care about what they do." Turning to Jordan, Stefan says, "I think you lead by example!"
Jordan enjoys spending his free time attending Minnesota Twins baseball games, playing video games, and swimming. Jordan is bit of a music buff, particularly hard rock music. A recent outing saw Jordan attending the Minnesota State Fair to see the band Alice in Chains live. It should be no surprise as a video game and sports lover that Jordan sees himself one day working a job in the video game or sports industry.