Jesse Skare puts his values to work at The Estates in Rush City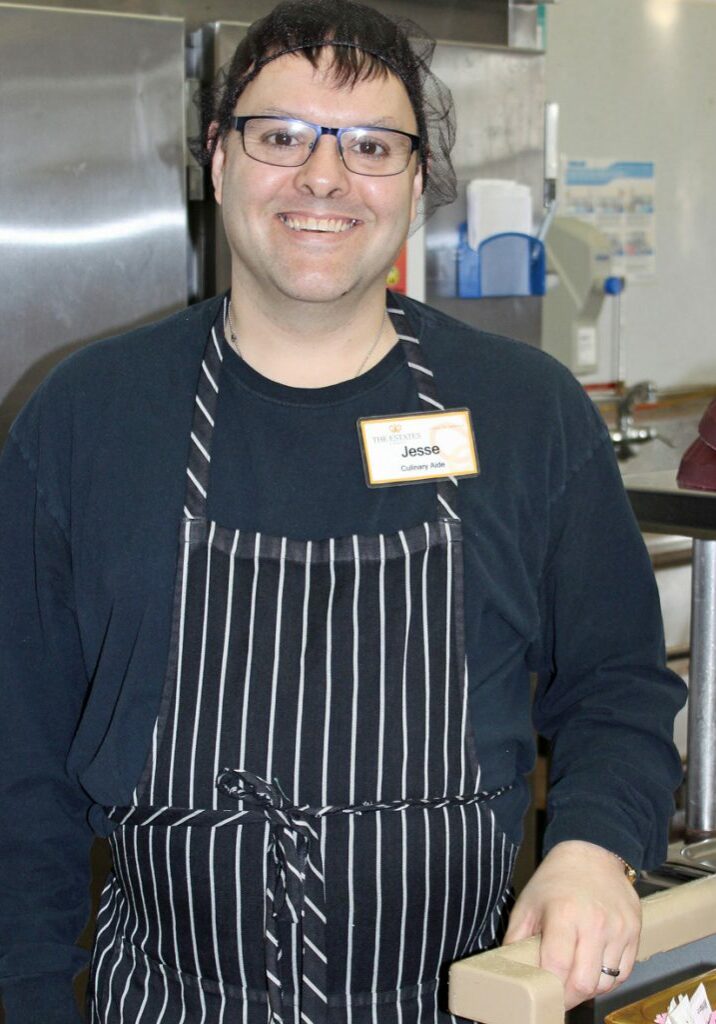 When Jesse Skare sat down with Rise Employment Consultant Michelle Thompson to discuss his next career move, she asked him about his work values and how important they were to him. Jesse was clear that he valued having a real purpose by helping others, being able to express his talents creatively, and having some independence and flexibility on the job.
After years of working at a few different East Central Minnesota dining/hospitality businesses, Jesse seems to have found the perfect fit. In his position as a culinary service aide at The Estates at Rush City, a skilled nursing facility, Jesse seems to have checked all his boxes of what's important to him.
"I love working here and have enjoyed it from the very first minute," Jesse said enthusiastically. "I like dishwashing because it's not too stressful, but I also get to do many other things like help the cook set up for dinners, put food on the residents' trays, and pour their beverages. I have gotten to know the residents and love helping them."
The Estate's kitchen is a busy place all day long and it takes teamwork to ensure that the residents are well-cared for. Jesse has found his co-workers to be patient, kind, and supportive; they all get along together really well.
"Jessie's enthusiasm and enjoyment for work shows in his attitude the moment he walks in the door," said Kristie Frazier, Culinary Services director. "He greets everyone with a smile. He is always willing to go above and beyond and help out whenever needed. He is truly an asset to our Culinary Department."
Michelle continues to provide follow-up support services for Jesse, assisting him in addressing any workplace issues he may have and helping coordinate reliable transportation. He lives in a group home two miles from The Estates and cobbles together the Heartland Express public transportation, taxis, and volunteer drivers to get to and from work on time.
Jesse and his significant other, Michelle Collis, have been together for 16 years. In July 2017 celebrated their lifetime commitment to each other with a special ceremony.
In his free time, Jesse attends services and a small group Bible study at Access Church in North Branch. Jesse also volunteers at the Family Pathways thrift store in North Branch.
His family is important to him and Jesse enjoys spending time with them. "I have a very loving and supportive family, and when it comes to me being such a hard worker, they and Michelle have helped make me who I am today."
Jesse loves music of all genres, especially R&B and country. He enjoys karaoke and volunteers his time singing for The Estate residents.
Among Jesse's favorite songs to sing are A Matter of Trust by Billy Joel, Rock My World Little Country Girl by Brooks & Dunn, and In This Life by Collin Raye.
"Jesse really strives to be the best person he can be, both in his personal life and his work life," Michelle noted. "He always wants to make the right choice and takes great pride in his work and accomplishments. Jesse is always setting his goals higher."
"I can't say enough about how much this job means to me," said Jesse. "I hope to retire from here."
This article appears in the March 2019 issue of the Rise Reporter.