Jeremy's art featured at Minneapolis American Indian Center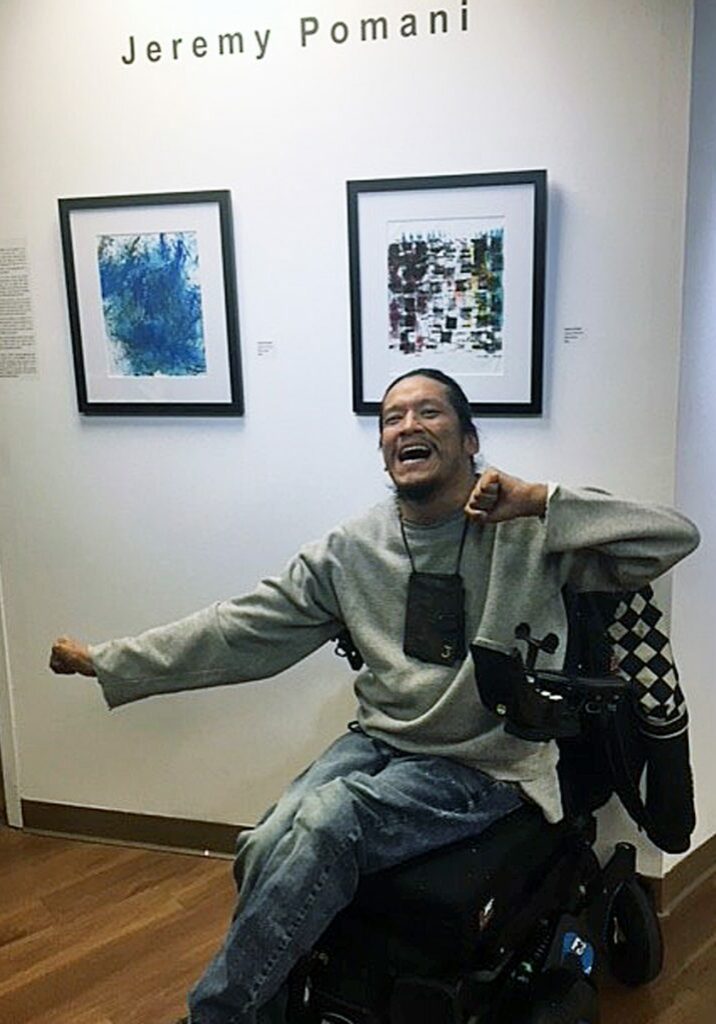 Jeremy Pomani is one of two featured artists whose 19 original art will be on display through February 8 at the Minneapolis American Indian Center. His work appears with another local artist, Tamara Aupaumut. A special reception was held November 16.
Jeremy took an art class in high school and "fell in love" with painting. He remembers that after completing his first piece, his art teacher took one look at it and proclaimed, "I love it!"
Jeremy was hooked.
In the past 20 years, Jeremy has painted hundreds of abstract pieces in acrylics. Most of his inspiration comes from his travels and family adventures.
"I imagine where I want to be and then I paint it," Jeremy said. "I want to express my feelings and memories of different people and places."
Among his favorite memories to paint are of the beautiful evening sunsets in Hawaii where his family of eight has gone annually since the 1980s. "It's like our second home. Every night we go up on the roof to watch the sun set with lots of other people."
Jeremy also enjoys painting his memories of the snow-covered mountains and ever-changing sky in Colorado. Family reunions in Texas at his grandparents' big home are also favorite memories Jeremy captures in his artwork.
In addition to his own artwork pieces, Jeremy enjoys Rise's Art Speaks program and working with Art Therapist Stacy Gross on a wide range of innovative and creative art projects.
Jeremy, 38, is of Navajo and Chippewa descent. He lives in South Minneapolis with his foster family and works as a data entry clerk at Rise Bloomington.
This article appears in the December 2018 issue of the Rise Reporter.