Jeanean has interesting career as an American Red Cross phlebotomist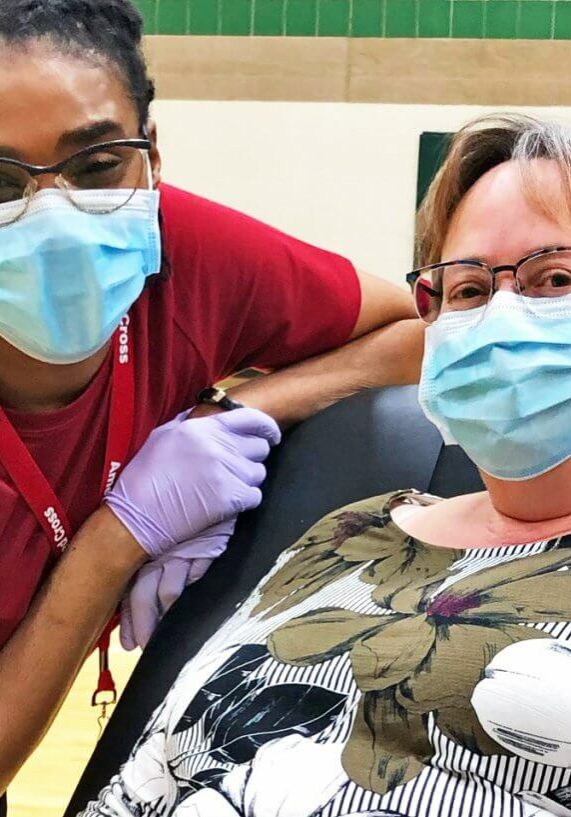 As always, but especially during this COVID-19 pandemic crisis that is gripping the world, blood supplies are critical to addressing medical conditions. Jeanean Chatman is proud to be a phlebotomist with the American Red Cross collecting much-needed blood and plasma during these challenging times.
A compassionate person by nature, Jeanean, 49, has always wanted to work in the medical field. Having experienced domestic violence and homelessness herself, she is well-aware of how important it is to be kind and help others.
Jeanean was training to be a medical assistant in 2009 when the college abruptly closed. Despite the fact that she had completed her training, clinicals, and certification, she couldn't find a job because of the college's tarnished reputation.
"It was really frustrating," Jeanean remembers. "I had big loans out, I wasn't done with my training, and no one would hire us. My mom was in hospice, so I took care of her until she passed."
Jeanean was referred to Rise in 2017 by Amy Johnson, a Minnesota Vocational Rehabilitation Services (VRS) counselor, for career planning, job search, and follow-up support services. With assistance and guidance from Rise Employment Consultant Amber Barnes (shown here visiting Jeanean while she was in training), she was hired as a direct support specialist / human services technician at a group home for people with disabilities.
Jeanean enjoyed the work, but injured her back and neck while on the job and had to resign. She and Amber began exploring other career options. The American Red Cross in St. Paul offered free training as a phlebotomist which really piqued Jeanean's  interest, so Amber assisted her with the application process.
Following the completion of her intensive 12-week training, Jeanean was thrilled to be offered a full-time job in April. She is part of a mobile team that travels to different locations such as American Legion posts, YMCAs, and churches to collect whole and separated blood from volunteer donors.
"I had great trainers and feel confident I'm doing a good job," said Jeanean. "I love this job because it's challenging. I get to meet a lot of people and travel around the cities and outstate Minnesota.
"I collect both the person's health history and blood, and talk to them while they are giving to try to make them feel more comfortable. I love giving people their donor sticker to wear proudly when they're done – it makes them feel special. Donors compliment me on my work and that feels really good."
"I love helping people and people just seem to open up to me, especially older people," Jeanean added. She plans to stay working in the medical field, perhaps one day pursuing becoming an X-ray technician.
With a good job and steady income, Jeanean was excited to move into her first apartment. Amber coordinated with Rise's Minnesota Family Investment Program (MFIP) support services to get Jeanean a voucher for Bridging, a nonprofit organization serving people in need of essential household items, to help her furnish her new home.
Amber continues to check in with Jeanean about twice a month for the first 90 days on the job to help ensure her success.
"I really appreciate the support I get from Amber – every time I needed it, she and Amy gave me the proper help or suggested other resources," said Jeanean. "I don't have a lot of support from other people in my life and it makes me feel good that I have it from her. I want to make her proud."
"I admire Jeanean's motivation and hard work," said Amber. "She never complains and feels sorry for herself when faced with adversity, but is determined to learn new things, change her path and succeed.
"I'm proud of myself," Jeanean added, "because of everything that I've been through, I'm able to go on and not quit. I want to leave something that my sons and grandkids can be proud of, too."
In her free time Jeanean enjoys fishing, spending time with her family, and relaxing by the water.
This article appears in the September 2020 issue of the Rise Reporter.