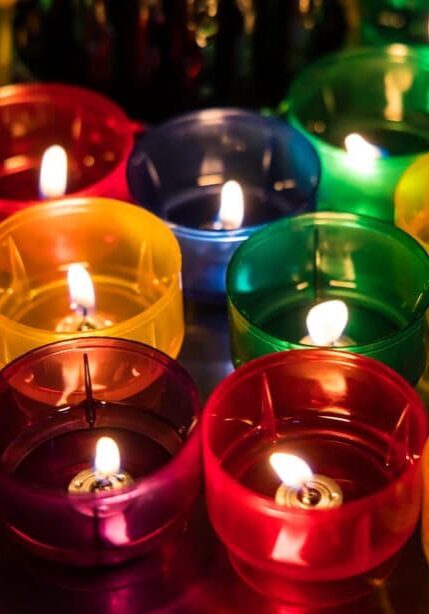 We remember the people we support who are no longer with us. In 2022, we said goodbye to eight people we support in our Rise programs. We send our thoughts to their families and friends and to the staff who worked closely with them each day.
Jim Frank
1973 – 1/2022
James began his work with Rise in 1994. James was easy to spot because of his great dance moves. Many people knew him for his big hugs and friendly smile. He is greatly missed.
Robert "Bob" Cunningham
1962 – 3/2022
Bob originally came to Rise in 2011, returning several times for new work opportunities. Bob worked hard, but always brought humor to the workplace. He is remembered fondly for his smarts and his witty personality.
Robert Lewis
1980 – 3/2022
Robert was sweet and kind. He was dedicated to his work, loved his family, and got along well with staff and coworkers. He lived a quiet and private life but occasionally shared his weekend plans and family updates with others. He began attending Rise in 2018, and staff say that although he worked at several sites during his time with us, his favorite job was at Federal Premium Ammunition.
Anthony "Tony" Hilger
1973 – 4/2022
Tony attended Rise Crystal since 1995. He was very much loved and appreciated by his Rise staff. Tony was very charming he always had a smile on his face. Tony had a great sense of humor and always liked joking with his staff. Tony had a huge sweet tooth and loved celebrating birthdays – both to sing along and eat cake! Tony loved music, bowling and laughing with his favorite staff.
Greg Rappley
1966 – 7/2022
Greg had been part of the Rise community for more than 30 years, starting in 1987. Many remember Greg's vast hat collection and bowling skills. He will be missed for his sweet personality.
Lindsay Nietz
1982 – 9/2022
Lindsay attended Rise Crystal since 2003. She enjoyed fashion and anything girly. Lindsay loved to read with staff and look through picture books. She also enjoyed flashcards, matching, and sorting. Lindsay liked playing catch, basketball and going for walks in the park. She was a fan of Raffi and enjoyed listening to music and watching music videos. She will be missed.
Jeffrey Atkinson
1980 – 9/2022
Jeff had attended Rise since 2002. Jeff took his time building relationships with others, but once you gained that rapport, he loved joking, sharing his beverages, being kind, and giving a big thumbs up! A number lover, he enjoyed circling words in his books and spent time on the computer looking for what year different movies came out. Jeff always had a cup of coffee in his hand! He would often ask to go to the store or a coffee shop.  He enjoyed outings to different places like the zoo, the store (for books or movies) or for coffee, of course.  Jeff was a funny and unique soul and is greatly missed.
Greg McKenzie
1966 – 11/2022
Greg began his time at Rise in 1987. He enjoyed playing cards and board games with family and friends, especially his favorite game, "Trouble," which he often won. He was helpful with chores at home and also enjoyed watching classic television shows and sports, where he was a dedicated supporter of the Minnesota Vikings and Kansas City Chiefs. He also spent time out at the zoo or going to dinner, which usually ended with ice cream. His friendly, humorous personality will be missed.