"I definitely want to stay here" – Jason finds fulfillment at Stacy Sports Grill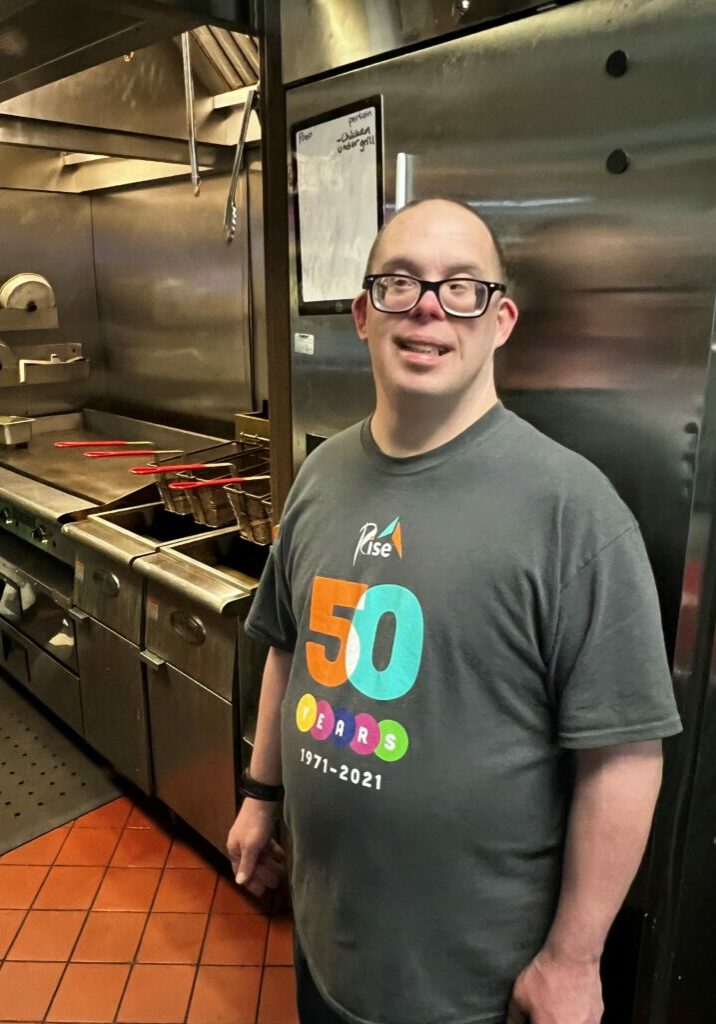 Our business partners hire teams of people from Rise in a supported environment. People gain valuable work skills and foster friendships in these jobs all while earning a paycheck. Jason Paddock, an employee on a team at Stacy Sports Grill, has been with Rise for over 20 years.
Jason, 49, works at Stacy Sports Grill in Stacy, Minnesota in a team of seven workers from Rise. The team helps prepare the restaurant before it opens Monday through Friday. Their jobs are to sweep, mop, clean the dining room and bathrooms, organize the bar, and keep ice machines clean and replenished throughout the restaurant.
Jason has been part of Rise programs for over 20 years. During this time, he has built his skills in group employment jobs at a music store, a machine shop, a racetrack, and other restaurants. Jason has a great work ethic as he's been known to choose to hold multiple jobs at once to fill his days.
Rise Program Supervisor Tracy Jochim supports job coaches and direct support staff at Rise sites. She communicates on behalf of work teams for scheduling, individual workers' needs, and any other necessary changes on the job site.
Tracy explains that her favorite part of her job is the people she works with, including Jason, who's she's known for many years. "I learn something every day from somebody that I support," Tracy says. "They each have unique perspectives and help me learn about people and about the world." Jason has positive feelings for how Tracy has supported him and his team. "She's a good one with a good heart!"
Jason loves his work at Stacy Sports Bar and the friends he has made along the way. He proudly exclaims, "I am organized and a good worker. I am good at working the bar." Tracy adds that Jason has been reliable at each of the six group employment sites she's seen him at.
The team at Stacy Sports Grill are also a consistent source of support for the Rise workers. They value the dedicated Rise team at the restaurant as well as Jason's individual talents. Shannon, a bartender at Stacy Sports Grill, shares, "Jason always comes in with a great attitude and is ready to work. He does a wonderful job and gets along with everybody." Having a dedicated and reliable team, like the people served by Rise, makes for a fun and fulfilling work environment. "It's great to know that the team enjoys their job here," said Shannon.
In his free time, Jason loves fishing, playing card games, going bowling, and watching his favorite NFL team, the Tennessee Titans. Jason also enjoys attending dances in the community.
As he thinks about job options for the future, he expresses how much he loves his current job and the friends he has there. "I definitely want to stay here." Jason makes sure to mention that he recommends the chicken alfredo for the next time you stop by Stacy Sports Bar.