Hard at work, Michelle is as happy as a kid in a candy store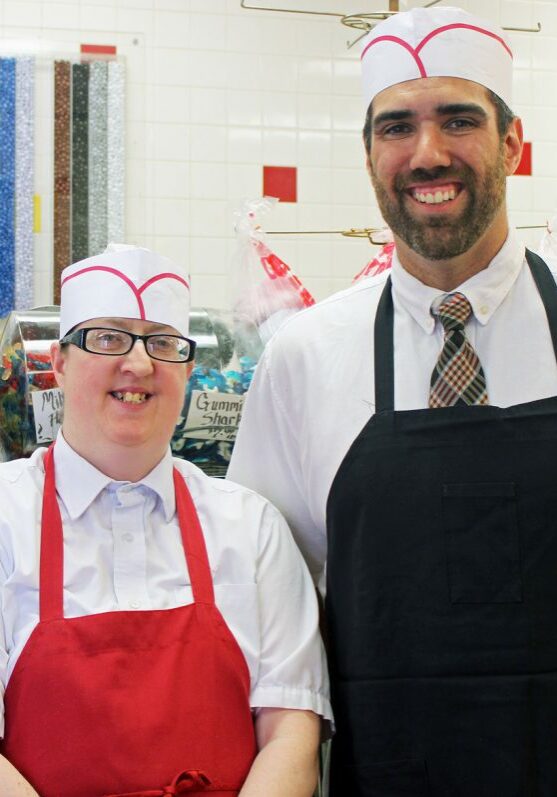 We all know how happy kids are in a candy store. Well, at 44, Michelle Ferrick is even happier to work in one!
You can smell the incredible aromas of butter, sugar, and chocolate even before you even walk through the doors of this busy old-tyme shop. Located on Main Street in the heart of historic and picturesque downtown Stillwater, Candyland offers its customers the finest old-fashioned candies, popcorn and caramel corn, homemade fudge, gourmet nuts, and specialty treats.
Admittedly not much of a candy eater when she first started working at Candyland (ironically, the biggest candy day of the year for kids, Halloween in 2017!), Michelle has come to discover just how "yummy" handmade candies can be.
Among her favorite of Candyland's more than 200 treats, Michelle lists fudge bars, dipped Oreo cookies, caramel corn, and white pretzels. And with her employee discount, she enjoys treating her friends and family to these sweets, too.
A favorite stop for locals and tourists from around the country alike, Michelle stays busy three days a week with several different job duties. She scoops, weighs, and packages various candy treats, taking care to ensure the bows and tags are put on just right. She also helps keep the candy production room and retail space clean.
Before coming to work at Candyland, Michelle had many different cleaning jobs in area businesses. When Rise Employment Consultant Patty Thurk assisted Michelle in applying for this job, she knew it would be a place she would want to work at for many years to come.
"I just love working here," said Michelle. "It's always so busy and the candies change based on the holidays and the time of year; Christmas time is the busiest. We also get a nice bonus at the end of the year which is so good!"
"Having Michelle at Candyland has been a real treat!" said Vice President Brandon Lamb, shown here with Michelle. "Her hard work and dedication to the Candyland brand is truly inspiring!"
On the other two days a week, Michelle works on production subcontracts at Rise Stillwater. Employment Consultant Denise Gibson checks in with Michelle a few times a month to ensure everything continues to go well.
"I love walking into Candyland and seeing Michelle's cheerful smiling face staring back at me as she suggests that I take home some chocolate-covered Oreos," said Denise. "Michelle has shown great improvement over the last year and I am so happy that I have been able to be a part of her success."
Michelle takes Metro Mobility to work from her group home in Stillwater. In her free time, she enjoys spending time with her boyfriend Nick.
This article appears in the September 2019 issue of the Rise Reporter.