Hana Hinds finds success, independence at veterinary job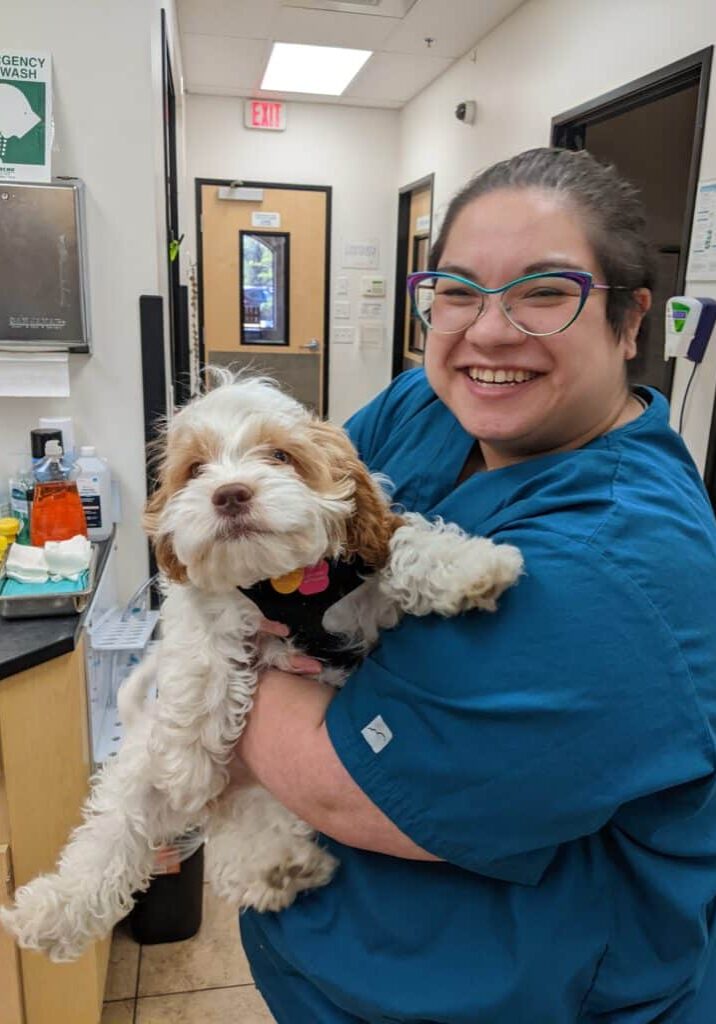 Hana Hinds, 31, has been a full-time Client Service Coordinator at a local veterinary clinic since last October. Hana is on the frontline of customer service. She supports customers as they come and go from the clinic, schedules appointments, and ensures incoming pets are comfortable as they await care. One of the biggest tasks Hana has is to make reminder phone calls. How many in a day? "It feels like 500 sometimes!" shares Hana. 
Hana outlines the necessary skills to succeed in her job: "Communication is always important. I'm the go-between the doctor and the client." She describes herself as "Very organized. I'm also consistent – I'm there early and often. I like my job." An unexpected benefit of this type of work is a mountain of information gained by working in proximity to doctors and healthcare. "I have more medical knowledge now than I ever thought I'd have," says Hana.  
This level of self-actualization and independence gained through steady employment seemed out of reach for her not long ago. She spent several years without work as the added pressures sometimes felt overwhelming. It wasn't until being prescribed medication for a recent ADHD (Attention Deficit Hyperactivity Disorder) diagnosis that Hana felt "more stable and ready for a career," as she describes.  
Hana connected with Rise in the Summer of 2021 and met employment consultant Samuel Monson. Samuel says early work with Hana included "narrowing down what work Hana would be interested in and getting her back into the workforce." It was Hana's lifelong interest in animals, as well as previous work as a receptionist, that helped the two connect the dots. Sam walked through the process with Hana, including researching area job openings, developing a resume, and practicing mock interviews. He finds purpose in "meeting different people and supporting their goals." Soon, Hana had a new job at a veterinary clinic.  
With Hana settled into her job, Samuel continues with ongoing job support in the form of check-ins every other week at a local coffee shop. In these meetings, the two catch up, share updates, and discuss workplace concerns such as occasional communication barriers. No matter what the situation, Samuel is there to support Hana. One example is finding the best option for Hana's new source of income. He shares, "We took trips to banks and credit unions to weigh options for Hana's banking." 
Hana feels the growth and impact over the past year. "I've gained a lot of experience and grown a lot. I have great relationships with my coworkers. I was just invited to a going away party for one of them," she shares. Further proof that Hana's workplace environment is supportive is that on a brief trip to New York City, she made sure to shop for treats and souvenirs to bring back as gifts for her coworkers.  
Regarding her working relationship with Samuel, Hana has kind words to share. "Samuel is always available and has good advice." Samuel has similarly positive affirmations for Hana, saying, "Hana works hard and is motivated. She's always willing to be honest and takes advice, wanting to improve and achieve her goals." He also shares that "We have a lot of levity in our meetings. We've gotten to know each other." Then he turns to Hana and says, "You have a great sense of humor." 
But what is the best part of her job? "Just the animals in general!" Hana exclaims. "They're always so excited to see you." It makes sense then that in her free time Hana also fosters cats. Other hobbies include swimming, video games, and a growing interest in reading for fun. In the future, Hana sees more work with animals. "They make my day better."