Great job as a retail helper at Kwik Trip helps increase Steve's self-confidence, gives him a sense of purpose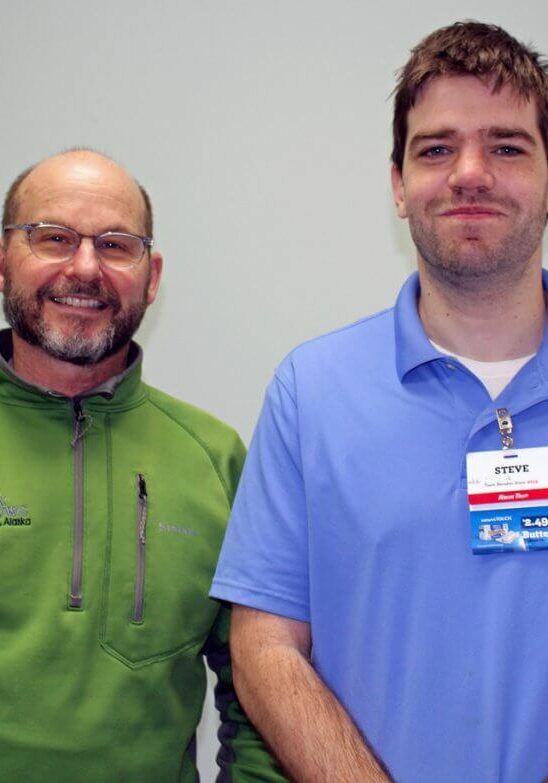 "It took me too long to figure out that college is not for everyone – including me," said Stephen Harding who had enrolled at Winona State University several years ago to study chemical science.
"Once I left school, I bounced around a lot and didn't have much good work experience. My therapist suggested I go to Bridgeview and check out Rise's job placement program."
At the Bridgeview Drop-In Center located in the Lee Carlson Center for Mental Health and Well-Being in Fridley, Steve connected with Rise's Employment Consultant Ben Streitz (left). Through Rise's Individual Placement Services (IPS) program, Ben assisted Steve with career planning and job development.
Marci Jasper, a business consultant with Minnesota Vocational Rehabilitation Services (VRS), knew of great work opportunities at Kwik Trip as she had assisted many others with getting jobs there. Steve and his support team agreed that would be a really good place to start back to work.
"Turns out, working part-time at Kwik Trip and making a slow transition back into work was exactly what I needed," Steve said. "It's a nice place with good pay, great managers, and everyone who works there is friendly. It's fun for me."
Working as a retail helper, Steve says, is fast-paced and keeps him busy. He unloads trucks, stocks soda, ice, and milk, cleans up throughout the store, takes trash out, and restocks shelves.
Most importantly, his Kwik Trip job has increased Steve's self-confidence.
"I used to think that having a job was out of sight for me," Steve admitted. "But now I have a sense of purpose and can set goals for my future."
"Ben helps keep me going," Steve added. "He knew what could work for me and believed in me that I could get a good job and it would work out well."
"Steve exemplifies how you can succeed when you develop a plan and surround yourself with a support group,"  Ben  noted.   "La-
Nay Koralesky from VRS was instrumental  in helping Steve formulate his employment plan and connecting him with Marci. Then he took it from there, executing the plan with his positive attitude and perseverance.  It won't surprise any of us if Kwik Trip offers him other opportunities in the future."
Currently Steve and his two beloved cats live with his younger sister; he bikes or takes the bus to work. Steve is grateful that his job enables him to pay for his own groceries and help out.
Steve has met some great people at Bridgeview and enjoys some of the many social activities and group sessions offered there. He especially likes playing board games and Dungeons & Dragons.
This article appears in the March 2020 issue of the Rise Reporter.