For those not ready to come back to work just yet, virtual remote services offer a great alternative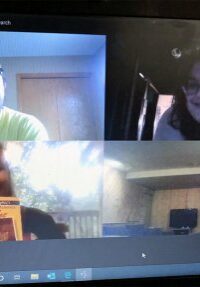 During these challenging times, people miss their friends, activities, team members, and coming to Rise for services! Team members got creative ian how to bring Rise services to those who weren't quite ready to come back to a Rise or business work location,
Virtual services give people the opportunity to socialize with their friends who are at home and/or at a Rise location through engaging activities.
In addition to their book club, the group shown here from Adult Day Programs especially likes taking "road trips" together. They select a destination, talk about how they would get there and how long it would take, what fun foods they might eat, listen to music from the area, find interesting activities to do, learn about the history of the area, and enjoy the
scenery.
Family members, guardians, and residential staff are enthusiastically supportive, have positive feedback, and appreciate that people have the option to participate in interesting, fun activities throughout the day from home.
Rise team members note they have seen many people "come out of their shells," increasing their self-confidence and social skills.
Virtual services participants seem to be interacting more with others and thriving from these new shared experiences, perhaps with a realization that, truly, "we are all in this together."
Who can receive virtual services?
• People who are served in Rise's Day Training and Habilitation and Adult Day Programs and have not yet chosen to return to center-based services
• Those living in their own, home, family's home, or a group home (Unfortunately, we are currently unable to provide virtual services to people living in ICFs.)
• People who have access to Microsoft Teams, Zoom, Google Hangout, phone calls or text messages
• We may have resources to purchase or loan technology; talk to your Rise team member for more information.
Rise offers a wide range of engaging virtual activities!
• Discussion groups for a wide range of interests – current events, sports, health-related topics, bucket lists, history, personal accomplishments, biographies of famous people, etc.
• 'Road trips' to various states and countries
• Games – Uno, Bingo, Scattergories, trivia, word games, 20 Questions
• Book Club
• "Visit" zoos, aquariums, museums, parks
• Art Therapy – materials provided, if needed
• Music Therapy
• Occupational Therapy – exercise and movement via Telehealth
• Yoga, exercise, stretching
• Training session from the Mad Hatter on boundaries, healthy relation- ships, etc.
Roberto and Jim enjoy getting together and practicing spelling, nature studies, and trivia. Roberto is an amazing speller and Rise team members often try to stump him with some spelling contests. Roberto and Jim both like to say at the end of the session, "Bye friend, I had fun today!"
Michelle started out with just one day a week of remote services and was enjoying it so much that she expanded to four days a week. She does group activities as well as one-on-one sessions with a Rise team member. She especially likes that she can select activities that best suit her interests and are "perfect" for her.
"I love these remote sessions because we're doing a lot of things that I actually enjoy doing. I just got a new word scramble book in the mail and a logic puzzle book, too! I also like the fact that I can participate in these sessions from the comfort of my home."
For more information or to make a referral, please contact a Rise program supervisor.
This article appears in the September 2020 issue of the Rise Reporter.