For Rosanne, Rise Coon Rapids "feels like my second home"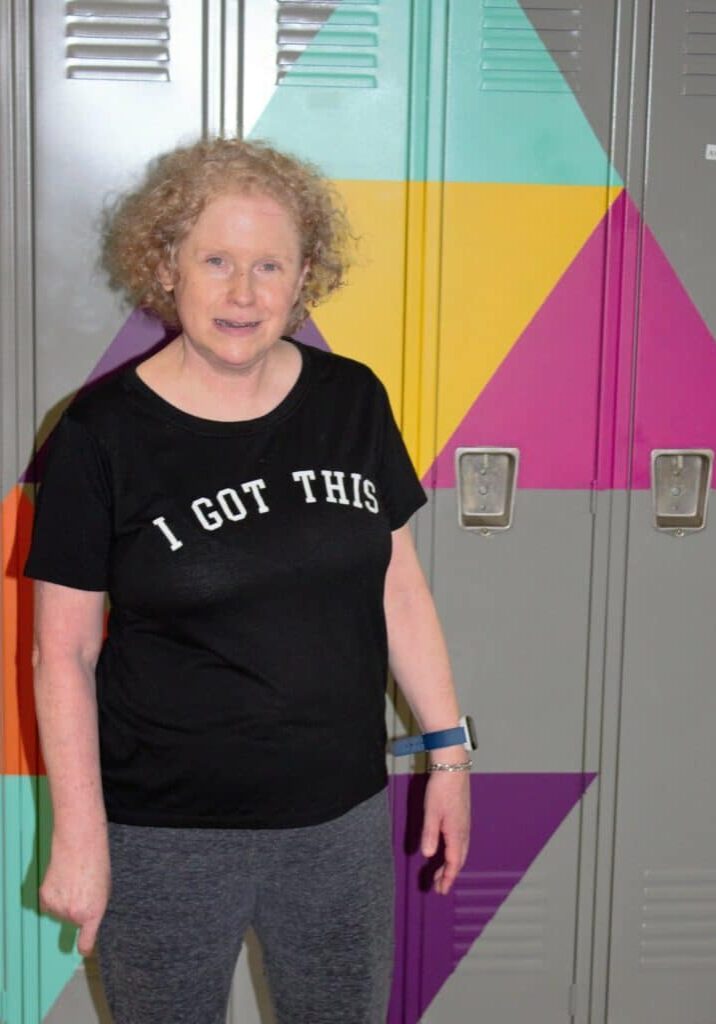 We support thousands of people with disabilities and other barriers every year, who come to Rise for a wide variety of reasons. Rosanne Tuma's story with Rise began after the discovery of a rare illness that led to brain damage and dementia over time. For more than a decade, Rise has been a place of comfort and purpose for Rosanne.
Rosanne, a Minnesota native, had finished medical school at the top of her class in Chicago. She then chose to complete a residency in Phoenix, Arizona. Rosanne was excited to make her first big purchase, a red convertible. But then her challenges began, starting with a series of strange vision issues that resulted in a car accident. Rosanne went in for an evaluation, which led to the discovery and diagnosis of Multiple Sclerosis (MS).
Rosanne, taking great pride in her work, continued with her growing career. Over the next few months, a series of exacerbations with her MS affected Rosanne neurologically and her impressive career came to an end. While her MS hasn't been active in decades, brain damage over time and dementia have forced Rosanne to seek more support and care.
Rosanne, now 53, has been part of the Rise community since 2011, starting with Rise's employment services. According to her sister and guardian Lisa, Rosanne "had so much pride in her paychecks." Once Rise Coon Rapids transitioned to life enrichment services during the pandemic, Rosanne found new purpose. At Rise Coon Rapids, Rosanne attends four days a week and participates in many meaningful activities including volunteer visits to Feed My Starving Children, creating cookbooks, and taking part in our art therapy program Art Speaks. Rosanne is proud of her talents. "People like my artwork," she shares.
One of the people Rosanne sees on a regular basis is Rise Activity Coordinator Katie Chambers, who describes Rosanne as "a pleasure to know and work with. She is the most spunky, helpful, kind, and funny person." It's important our team members get to know each person we serve and develop programs and activities with the individual in mind. "I try to meet each individual person's needs and help them discover new possibilities for themselves," said Katie. When it comes to her work with Rosanne, "I want to keep her mind going and help her remember things. We do a lot of puzzles and brain teaser worksheets with Rosanne." These interactions are just as meaningful for our team members. "I love when I get to hear from her family or staff at home that she's enjoyed the activities I've planned for her," shares Katie.
Rosanne's sister Lisa has seen great benefits from her time spent with Rise, including many friendships made and activities that meet Rosanne's needs. "What she gets from Rise is a safe environment to be yourself, to learn, and to experience great things," Lisa shares. "At Rise, my sister gets the stimulation she needs to slow down the symptoms of her dementia as best as possible and help her brain to think in new ways. The most important time in her day is spent at Rise." Even after decades spent with dementia, Lisa notices that Rosanne has held on to some of her most noticeable characteristics through all this time. "She finds joy every day and she's stubborn. It's funny how much of her hasn't changed," Lisa said with a smile.
In her free time, Rosanne enjoys painting using acrylics, sharpening her math skills, and still using some of the multiple languages she knew. "Tu eres muy simpático" (You are very nice), Rosanne said. When it comes to her favorite sport, racquetball, Rosanne still has her competitive edge. "I always win and it's easy!" Rosanne intends to spend a lot more time in the future with Rise Coon Rapids as she shares that Rise "seems like my second home."