Following pandemic, Larry regroups and lands 'dream job'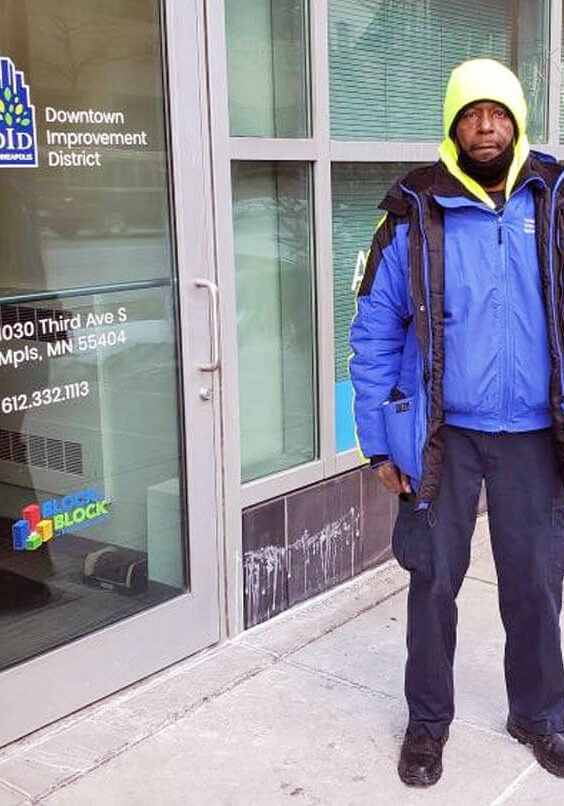 If this man's friendly face looks familiar, you may recognize him from a Rise Reporter feature in the March 2020 issue.
OR — you may have asked him for directions in downtown Minneapolis and had him escort you to your destination.
Larry Mitchell works as an 'ambassador' with the Minneapolis Downtown Improvement District (DID) and says he enjoys "bringing more happiness to the streets of downtown Minneapolis."
With assistance from Rise Employment Consultant Hollie Petersen, Larry had been working as a general utility worker for Aramark, a food service caterer, at US Bank Stadium.
When the pandemic hit last year, events at the stadium came to a screeching halt and Larry was laid off. So he turned his sights on getting a job with DID.
Larry and Hollie visited the DID office in March 2020 to learn about upcoming opportunities. Unfortunately, the pandemic postponed DID's hiring season.
"Larry was persistent in making sure DID knew who he was and connected with employees to find out when applications would be open again," Hollie remembers.
"He continued to check in monthly until the last week of July when we finally got the word to move forward with submitting his application! Larry first had a virtual interview, and then an in-person interview in July (following COVID-19 guidelines) to complete the process."
Wendy Yang, his Minnesota Vocational Rehabilitation Services counselor, continued her support of Larry by providing funds to purchase waterproof boots, insoles, and winter socks.
Larry was hired in August 2020 and works Friday through Tuesday helping clean downtown streets and sidewalks, emptying trash cans, and keeping corners and walkways free of snow and ice for pedestrians' safety.
But Larry says the very best part of his job is the hospitality he extends to visitors and residents.
"I enjoy answering their questions, giving people directions, and escorting them to places, if they want," said Larry, who is known for his kind demeanor, strong work ethic, and willingness to help others.
"Downtown Minneapolis isn't as busy as it used to be, but I like living and working here."
"Larry is such a dedicated individual, and has always been exciting to work with!" said Hollie. "Now that we are focused on maintaining his current job, rather than job-seeking, Larry continues to check in weekly – whether we are processing concerns or celebrating his successes. It has been incredible to see Larry take a vision and turnit into his own reality. I am so proud of how far he has come!"
Larry, who is 61, has faced significant personal obstacles in life. He appreciates the continued support he receives from Hollie. Given his life experiences, Larry wants to help others who may also be struggling with mental health issues.
"Larry does not hesitate to spread the word about his positive experience connecting with mental health and employment services," Hollie added. "His current role is a great outlet for him to make a positive daily impact on individuals in his own community, as well as demonstrate to tourists the true hospitality of Minneapolis."
"For those of us who come from the streets and have our ups and downs in life, it's important not to let our past hinder our future," Larry said. "Don't let failure get in your way — never stop trying."
This article appears in the March 2021 issue of the Rise Reporter.