Employment Consultant Samuel Monson named October, 2021 Rise Champion of the Month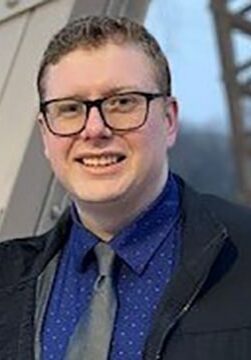 Samuel Monson has gone above and beyond to support the people he works with since he began working as an employment consultant in October of 2020. Before Rise Monson worked at an Adult Rehabilitative Mental Health Services (ARMHS) program in Moorhead, MN while also working part time as a case aide for juvenile probation. He also spent two and a half years working at an adult halfway house in Fargo, ND. His prior experience and passion for helping people make Monson a great resource for the people he serves.
Coworkers say Monson is always willing to go the extra mile for the people on his case load. One recent example is when he advocated for one of the people he serves to get a new bed because they had been sleeping on an air mattress. He was able to pay for the new bed with money from the Advancing Lives Fund; this helped the person served get more sleep at night and perform better at their job. Monson's caring attitude also extends beyond those on his case load. One coworker told us that he is constantly checking in with fellow staff members to see how they are doing and if he can assist them in any way.
The sense of comradery with his team is what Monson enjoys most about working at Rise. He appreciates that people from different departments have opportunities to connect with each other, like through Rise's Movie/Podcast Club! He also says that he appreciates the opportunity to connect with persons served, the community, and business partners. Monson likes being the encourager for everyone, so he takes great pride is seeing those on his team and the people he serves succeed and grow in their work.
In his free time, Monson enjoys watching movies, hanging out with friends, cooking, working out, and spending time outdoors.