Doris drives her career forward with Enterprise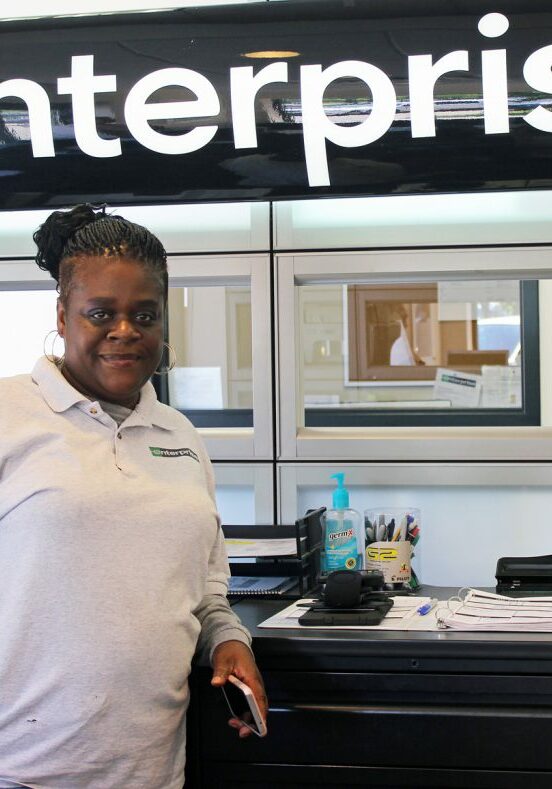 By Samantha Marks, Rise Development Manager
When you meet Doris Walker at Enterprise Rent-A-Car in the Lyn-Lake area of Minneapolis, you are immediately greeted by her ear-to-ear smile and courteous customer service.
"She's super friendly and super active!" said Enterprise Branch Manager Jake Bednartz. "She does not like to sit around and is always eager to keep moving and working. Doris is my kind of employee."
With her infectious laugh and hardworking mentality, it's hard to believe that not long ago Doris was struggling with homelessness, addiction, and unemployment — huge barriers which she thought were virtually unsurmountable.
Feeling as though she hit a dead end, Doris took it upon herself to enroll in a local mental health program where she was given housing supports, the resources to earn her driver's license, and help getting her record expunged.
Things were looking up for Doris, but the puzzle still wasn't completely put together as the employment piece was still missing. She could get a job — she just couldn't keep a job.
And she could not figure out why.
Doris describes Rise Employment Consultant Amber Barnes as her "missing piece to the puzzle." She was referred to Rise by Minnesota's Vocational Rehabilitation Services to receive the person-centered services she was missing. Amber took time and effort to figure out what was working and what wasn't working in Doris' employment history.
After drafting a resume and some interview practice, Doris began getting various job offers, but nothing that made her feel happy, welcome, and supported. She became notorious for quitting when the going got tough. Amber had a hunch something was off.
"If someone really wants to work, which Doris does, it is a matter of making the right fit and taking the time to ask her what she wants to do to find that right fit."
After some trial and error, collaboratively, the duo found Doris' passion: driving.
Doris interviewed at Enterprise Rent-A-Car, but initially was not offered the job. Amber negotiated a second interview and this time Doris came prepared to explain her work history and how she has grown from it. Doris is excited to be close to celebrating one entire year employed at Enterprise.
"I am just so happy to be here," she said. "Working with nice people — it makes a difference, a big difference. I am so proud to still be here."
Doris works four days a week and lives in an apartment. After work, she loves to stay active, and enjoys biking, swimming, and camping.
Doris also considers driving not only her career, but her passion and hobby. She enjoys taking driving trips to northern Minnesota in her free time.
"I am not only proud of myself, but I am proud of Amber for helping me and sticking with me through tough times. If it wasn't for her, I wouldn't have a job right now, much less a job that I love."
This article appears in the September 2019 issue of the Rise Reporter.