Denise Coppess' new job lays foundation for a career change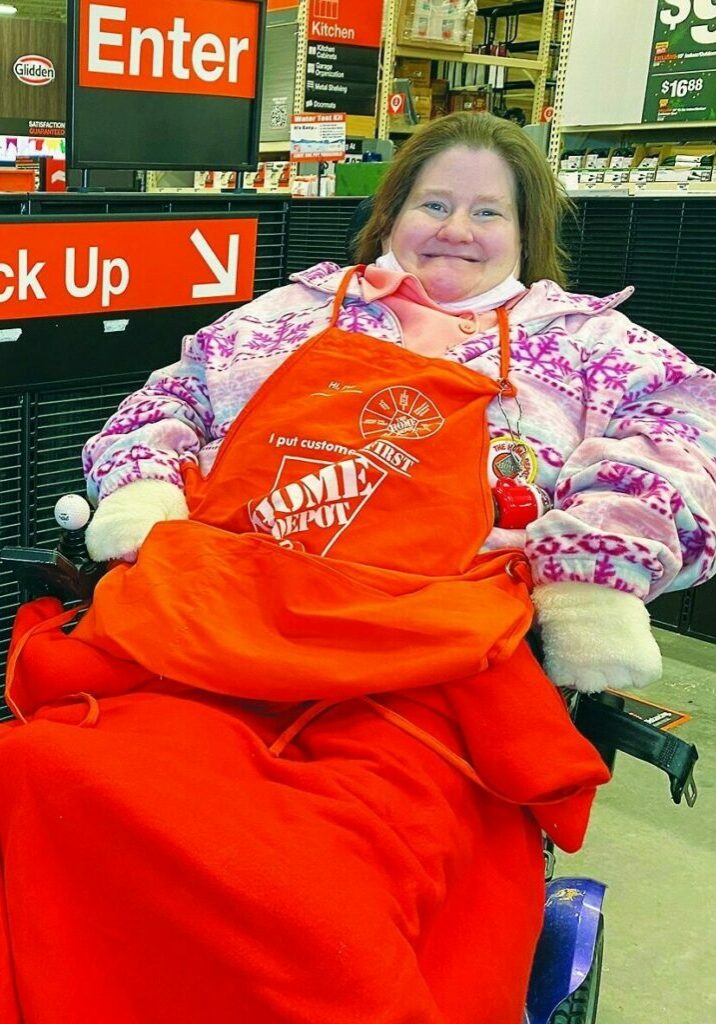 The friendly face welcoming customers at Home Depot near Blaine's Northtown Mall is a familiar one to many at Rise. Denise Coppess greets shoppers there 3 to 4 days per week with a smile on her face, sharing helpful information and pointing people looking for specific items in the right direction.
Coppess has worked with Rise for about 25 years. Much of her career experience has been office-based through employment supports and our Data Ability team, which supports Rise teams and business partners.
Coppess was on a path that would keep her behind a desk in an independent office job. But last summer she made change when she joined Home Depot's customer service department. "Did I ever think I'd be in customer service? No. But I like it." Coppess said.
"You can't always just sit around. You're not going to feel satisfied or get money in any way."
A New path
Taking this new position was a risk because it was a huge change from the data entry and office work she'd been doing for more than two decades. A new career path meant developing an entirely new skillset while also relying on the communication lessons she'd previously learned.
"It's fabulous. She's always got such a great positive attitude and is wonderful to be around. And the customers really like her," said Denise's manager, Cathy Shoemaker.
Coppess worked at an interpreting service before joining Home Depot. That position ended
in job cuts related to the pandemic. After being out of work for nearly a year she briefly went back to work at Rise before her employment consultant, Sarah Gustafson, suggested she give retail a try.
"[Sarah] said, 'I have a position I'm working on. Do you want to go look at it?' I said, 'Okay!'" Coppess said.
Grant-Funded Initiative
Gustafson's work making new partnership connections is amplified by a financial grant from Rise supporter and partner, Cummins.
The program's goal is to economically empower people with disabilities by connecting them with employers paying competitive wages. With this support, people can set long-term goals to work in fields they are passionate about. They also become independently connected to the communities they live in, which results in increased purpose and life satisfaction.
Gustafson's work resulted in 12 new jobs in 2021.
Looking Forward
Denise enjoys working with customers. She plans to improve her skills and grow her role more during the upcoming year.
She recently participated in a workforce goal-setting survey where she suggested taking on even more customer-focused tasks like answering phones and cashiering.
Her advice to anyone thinking about changing careers or starting their very first job? Do it! "You can't always just sit around. You're not going to feel satisfied or get money in any way," she said.
We work hard to expand business partnerships and create new employment
opportunities. Interested? Contact:
Sarah Gustafson, Employer Outreach Specialist, Cummins Grant Program
(612) 413-1092 | sgustafson@rise.org