Deb Struckman proud of good, long career at Rise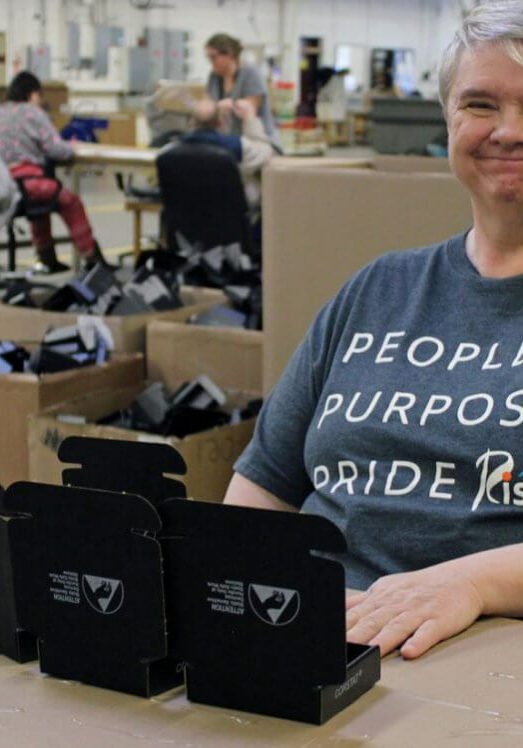 By LeeAnna White, Advancement Intern
After working at Rise for nearly 40 years, Deb Struckman might now start really thinking about retiring as she approaches her 66th birthday in late December of this year.
Deb came to Rise in 1980 after finishing her public schooling. With her fun and bubbly personality, Deb has been a great addition to the work team at Rise Spring Lake Park's production facility. She works part time Monday through Friday and especially enjoys working on packaging and assembling subcontracts.
"With Deb's great sense of humor, she's easily liked by her peers and staff here at Rise," said Program Supervisor Bryce Lewis. "Deb takes pride in the work she does to ensure customers are happy with the product they receive."
When she does chose to retire, Deb knows that she will miss the many friends she has made at Rise over the years.
"When I come to visit them at work, I will have to wear a visitor's badge," she realized. "That will be really different!"
In her free time, Deb enjoys spending time with boyfriend Mark of 32 years. When the weather is nice, the couple likes to take walks and enjoy a picnic together in the park. They also like going out to eat and seeing movies. "Comedies are our favorite," Deb added.
A resident of Living Well assisted living apartments, Deb has many friends in the building.
In addition to spending time with Mark and his family, Deb also likes to bowling and often rolls a score of 100 or more!
This article appears in the March 2020 issue of the Rise Reporter.