Darnell cooks up good food and good times at Boys & Girls Club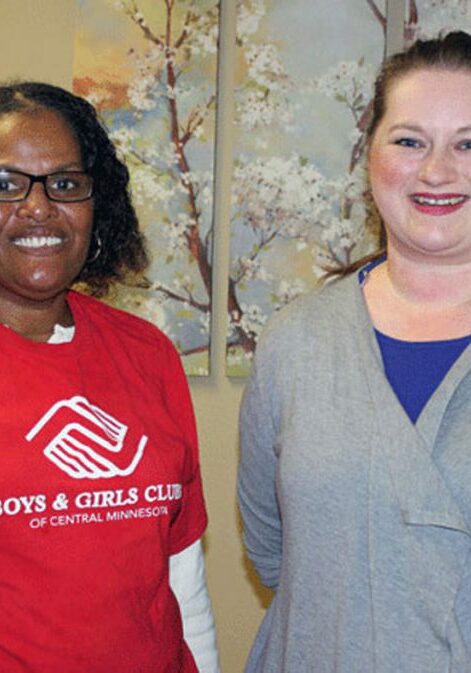 Having had many years of some really hard times, Darnell Jones can now confidently say that she feels she went through all of it for a reason. Despite her many "bumps and turns," Darnell believes it all served a purpose for bringing her where she is today.
For more than a year, Darnell has been the head cook for the Boys & Girls Club of Central Minnesota in St. Cloud where she provides healthy after-school snacks and a hot supper to nearly 120 kids, ages 5 to 18. But it's more than good food that this kind, warm-hearted woman offers these at-risk kids.
"They come every day with their hurts and struggles and I try to connect with them – I think I'm easy to talk to," said Darnell. "There are a lot of pressures today; life can be hard. I want them to have hope and be strong – especially the teenage girls. They know 'Miss D' had it rough – but I made it through. I'm grateful I can be helpful to them in some way."
For extra treats – and time with Darnell – the kids get to help her in the kitchen. "Sometimes I get too much help!" she said with a laugh. "But it's a good time to talk. I hope I make a little bit of difference in their lives."
Over the years, Darnell has struggled with drug addition, leading to several incarcerations. In addition, Darnell battled mental illness, domestic violence, health issues, PTSD, and chronic homelessness.
Darnell recalls her incarceration 15 years ago as a "great changing time" for her. "I used that time to really reflect on my life, get some schooling and work experience, and deepen my faith in God. It was good."
Darnell, who is 58, is "so very, very grateful" to be clean and sober for more than two years. A native of Chicago, she originally came to Minnesota a few years ago to be closer to her then-estranged two adult sons and daughter, and grandson.
She lived for a year in the Anna Marie's Shelter, a domestic violence shelter located in St. Cloud. Staff referred her to many community resources to help her get on her feet, including Rise for housing supports and employment services.
A chance meeting with a stranger riding the bus led Darnell to apply for the head cook position at the Boys & Girls Club. She had experience working as a manager of fast food restaurants, but had never been a cook.
Lead Employment Consultant Nicci Steinhofer with Rise's Central Minnesota Works Re-Entry program for ex-offenders, assisted Darnell with the application process. She then got a pre-test workbook and helped Darnell study for the tests she would have to take to qualify for the job.
More than a year on the job, Darnell is thrilled to be at the club working with her prep cook, Evelyn Wilkins, who first told Darnell about the job on that fateful bus ride. In addition to cooking, Darnell is also responsible for menu development, inventory, and cleaning.
Moving to the St. Cloud community was challenging, Darnell acknowledged, because she didn't know anyone. "Without help from the staff at Rise, I never would have been able to face the pressures. They made it so much easier for me by helping me with paperwork, advocating for me, and helping me understand policies and know my rights. They are such a blessing to me."
Amanda LaPlante, a Rise mental health professional, provided Adult Rehabilitative Mental Health Services (ARMHS) to Darnell to assist her in managing her mental illness and developing independent living skills.
"Nicci and Amanda are always straight-up with me and I can talk to them about anything," said Darnell. "They have really helped me get organized, budget my money, and pay my bills. For the first time ever, I own a car and have some money in my pocket."
Nicci is rightly proud of Darnell. "Darnell is always so positive and pushes through and follows through on what she needs to do to be successful. She is doing fantastic."
"Today, I can look myself in the mirror and love myself," Darnell said. "I am strong. I am good with who I am. I am so grateful."
Darnell has hopes of going back to school to become a counselor or mentor to troubled youth. In her free time, she enjoys reading books of faith and encouragement, cleaning, and spending time at Higher Ground Church of God in Christ in Waite Park.