Craftsman's work on display in Minnesota Kitchens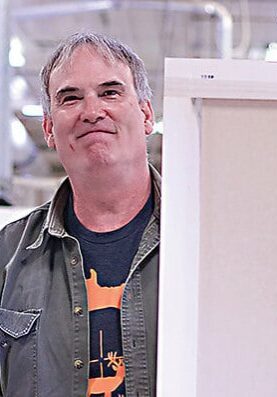 by Tom Brinker
Paul Weller walked into Galloping Cabinets in rural Mayer, Minn. to assemble cabinets, doors, and panels seven years ago. Weller's work at the family-owned custom cabinetry company creates showpiece kitchens across Minnesota and around the country.
"I cut out materials, assemble, and sand a lot" Weller said. "The work is usually on my own, but I also help with training new staff."
Weller, 57, was connected with Rise's transitional housing program after facing homelessness. Soon he was introduced to Adult Rehabilitative Mental Health Services (ARMHS) and Brenda Sorgdrager, a Rise ARMHS practitioner.
ARMHS services provide people living with mental health struggles with crucial resources as they navigate housing, employment, and more.
"For Paul, anxiety and depression might get in the way of day-to-day tasks like going to a necessary appointment, which leads to setbacks. I help people, including Paul, manage the day-to-day so they can get to their goals," Sorgdrager said.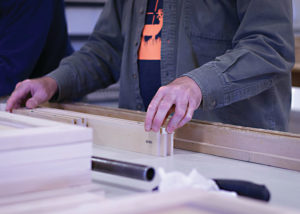 "Both my job and Brenda have helped stabilize my life, keeping me working and taking care of what I need to," Weller added. He says he appreciates his job and Sorgdrager's continued support.
"Brenda helps me out with just about everything, like budgeting, grocery shopping, and a lot of daily life things," he said.
"Paul has never learned to read or write," said Sorgdrager. "So, the fact that Paul has learned to budget and do his job well in his own way is mind blowing. It's one of those steps in managing our own lives that we take for granted."
Her support extends beyond learning and skill development. Sorgdrager and Rise have connected Weller to needed household appliances, new tires, a computer, and accessible technology to support his learning disability through community connections, programs, and grants.
"Without someone you know helping you out or someone who knows what to look for, you can get passed over for mental health services and many other areas," Sorgdrager said.
"The past year has given everybody a lot of anxiety and added barriers, which is what most people on my caseload have always worked through."
Weller describes himself as a conscientious, focused, and hard-working employee. Sorgdrager agrees. "He's dedicated, timely, and he has an ability to not take things so seriously. He takes on a lot internally, but you'd never know that. If you ever need
someone on your team, he'd be the guy," she said as they share a laugh.
Weller says his employer has become his friend, which is just one reason he's stayed with Galloping Cabinets for so long. "He's a pretty good boss! If I ever have issues, he always understands," he said. "My favorite part of the job is working with my hands, starting with raw wood and making something with it."
In his free time, he enjoys golfing, hunting deer, barbequing, and handiwork. He would like to build a career in custom woodworking someday.
Sorgdrager believes Weller has the skills and passion to reach that goal. "I'll go to his house to meet with him and he's usually building something. His daughter just got a job as a teacher and he built her a desk. Also, the owner of his apartment building hired him to do the flooring in a unit next door," she said.
Weller recognizes the valuable role ARMHS services have played in his life. He wants others to know too, especially those whose mental health struggles create daily barriers. "I wish people knew more about mental health issues and what it takes for some of us to manage every day. Once you get a contact and a little help, things get easier and more manageable. I know there are all sorts of people out there who are not receiving the services they need. Getting connected to resources is the hard part. It's important."