Cottage Grove takes a turn at wellness with Spirit Club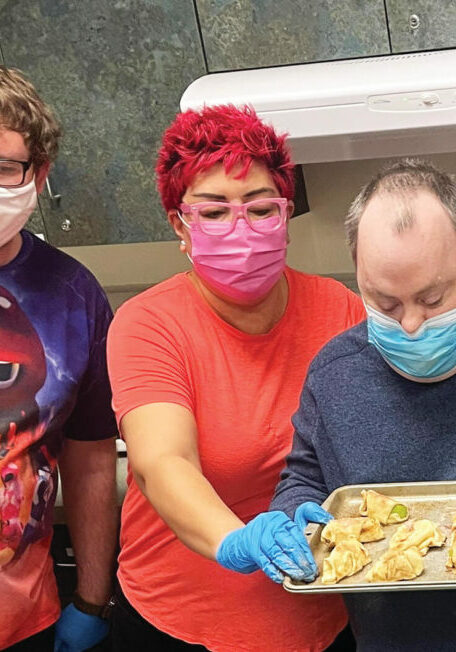 by Jillian McNett
Pay an afternoon visit to Rise Cottage Grove and find a room full of activity. People are tapping their feet to music, lunging legs, and
circling arms with Rise team members. These fun health and wellness workouts are streamed online from Spirit Club, a community of certified fitness experts who create classes for people of all abilities.
Each Spirit Club session is led by three instructors. One demonstrates the most intense version of a workout. The second person performs a simpler style of movement and the third instructor carries out all movement while seated. Spirit Club's Zumba classes are a Rise fan
favorite.
"I don't really like dancing because I'm not very good at it, but I like moving my arms," said Steve Cox, who also goes by "Goose" and has come to Rise in Cottage Grove for 39 years. "The [Zumba] videos were hard at first, but they are getting easier," he said. Cox's one complaint? He'd like more Kenny Rogers music included with the classes.
Regular exercise has important to overall health and wellness benefits. For people living with disabilities, activity improves motor skills, increases stamina, and builds muscle strength—all benefits as people take part in community-based activities and accomplish goals of finding work.
Health and wellness classes have also kept people active during a difficult time. Many served at Cottage Grove want to return to community-based employment or find new work exploration programs. Because people with disabilities sometimes have health conditions that put them at higher risk for serious Covid infections, their wait to return to work is much longer than others.
Sarah Brown, known to her Rise friends as "Brownie," told us she would rather be working toward goals during this time, but these Spirit Club skills will be useful as she and others go back to work after the pandemic.
Sam McQuade, who is new to Rise, said he's excited to begin working soon and is participating in the programs to build strength and endurance which will contribute to his goals. Another person served, Diane Bruce, told us she especially enjoys the music, and loves when she dances with Cottage Grove supervisor Rachel Meyer.
Rise team members also hold regular meditation sessions to nurture people's mental health. Meditiation benefits include decreased pain, fatigue, anxiety and depression. The mindfulness practiced during meditation can be useful while developing healthy coping strategies.
In spring and summer, Rise team members take wellness activities outside too. Walking club, which became popular last summer, returned in April. Employees are busy planning additional outdoor activities for everyone to enjoy time in the fresh air exploring the community.
When people served aren't dancing in Zumba class, they're in the kitchen working on new healthy recipes. With guidance and instruction from staff, people supported at Rise learn to make new recipes made up of fruits and vegetables that promote a healthy lifestyle. While many
persons served live with families or in group homes, learning cooking and nutrition skills contribute to their independent living skills and build confidence. The most recent recipe? Apple turnovers! Brown and Bruce both enjoy the cooking classes. When asked if she liked the apple turnovers, Bruce responded with an absolute, "Yes!"