College students complete Rise spring internships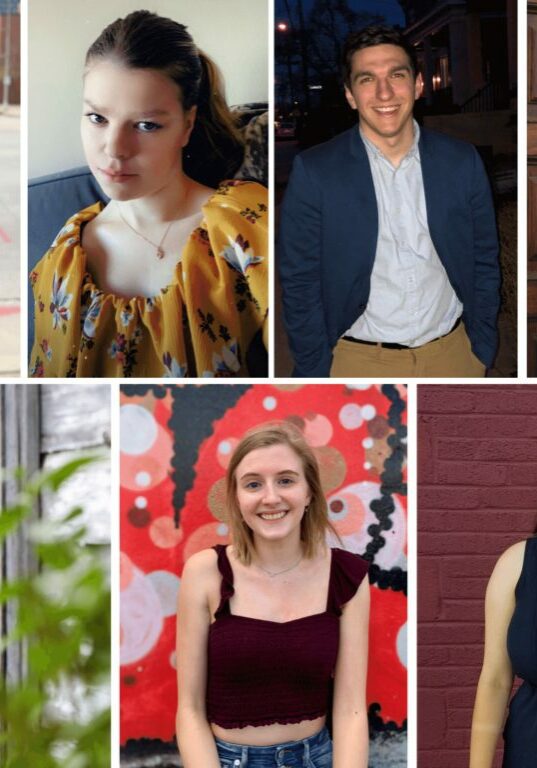 Rise welcomed eight spring interns in January. College students from universities across Minnesota and Wisconsin went from virtual classrooms to remote offices for hands-on work experience in human resources, communications, event planning, grants and fundraising and video production. Learn more about our interns:
Paige Cihunka returned to Rise as a Human Resources Intern after a successful 2020 internship. She and the HR team worked hard to implement our new computer software, Paylocity, which helps us support our employees and the people we serve in many ways, such as payroll, hiring, benefits, timecard functions and more.
"Being part of the transition definitely was the most valuable part of my internship this spring. It is awesome to see it all come
together and support the HR team," she said.
Cihunka graduated from Winona State University in May with a degree in Human Resource Management and Business Administration. She has always wanted to work for an organization that helps people, and says she enjoyed working with Rise's Human Resources team.
Senior Sophie Strzok spent the semester as Rise's Government Affairs Intern. The Political Science major was attracted to Rise because of our ongoing legislative advocacy for people with disabilities and other barriers.
Strzok's work at Rise focused on legislative updates, social media promotions and efforts encouraging people to attend Disability Day at the Capitol in February. She also worked hard to update and inform staff and the people we serve through regular advocacy web updates at rise.org.
Strzok said, "I have enjoyed being with people who are focused on helping people experiencing disabilities and have learned much about Minnesota's legislative process. Working on bills and tracking them through the legislature was an internship highlight."
Strzok says her passion for disability rights advocacy grew too. She plans to continue to focus on disability rights in her career in a consulting role or as a disability attorney.
Without his Rise internship, Joe Lehman says he would not have learned about fundraising strategy, content creation, career planning or professional development.
As a Development and Special Events Intern, Lehman helped raise our Rise profile through fundraising research projects and by supporting event planning. Lehman was attracted to Rise's mission when searching for internships. "Rise's ability to build meaningful relationships with people and create helpful services is admirable," he said.
An Urban Studies major at the University of Minnesota – Twin Cities, he plans to find a position as a city planner after college. Lehman's career goals include community development and planning or local government administration.
Natalie Karl hopes to build a rewarding career helping people experiencing difficulties in their daily lives. That's why the University of Northwestern – St. Paul senior was attracted to an internship with Rise.
While on our Advancement team, Natalie dug into Rise's volunteer program, updating records, and organizing data. She also wrote articles, coordinated mock interviews, and helped with volunteer orientation.
Karl graduated in May with a degree in Nonprofit Leadership and Intercultural Studies. She plans to work in volunteer relations.
Jillian McNett was attracted to Rise because of our strong reputation among Twin Cities nonprofits. A Strategic Communications major, McNett worked as a Grant Writing Intern, supported grant projects, wrote articles, and put together supporting materials and presentations.
"I've gotten a look behind the curtain and learned how nonprofits work. My supervisor taught me about grants, how the industry functions, and gave me tips on my future job search," McNett said.
McNett has enjoyed meeting new people outside of her Rise team and feels lucky to be part of an organization that values interns' work and input. She plans to find nonprofit work in the Twin Cities after graduating in the fall.
Lexi Wardarski's digital skills have been useful as Rise prepares for our 50th Anniversary. She filmed and edited interviews with people Rise serves, staff, and others important to Rise's legacy.Interviews will be used throughout our anniversary year, including during the Celebrate Rise Gala November 4.
"I have enjoyed meeting staff and people Rise works with and was able to learn so much. Everyone has amazing stories to share," she said.
The UW Madison Communications student spent the semester off campus because of the pandemic. She says her internship provided valuable experience.
Wardarski graduates in December with a Communication Arts degree and certificates in Digital Studies and Cinema Production. She plans to work as an outdoor photographer, creating photos and videos for summer camps and camp marketing firms.
Olivia Statterlee is finishing up her final semester at University of Wisconsin – Stout studying Human Development and Family Studies.
Statterlee chose Rise for the opportunity to learn more about human resources. Working closely from home with the HR team during Rise's Paylocity rollout, she learned it is possible to work well together virtually.
Statterlee is grateful for the hands-on experience she received while implementing our new Paylocity human resources technology platform. She plans to serve in AmeriCorps in Duluth following graduation in May before pursuing her master's degree.
Sierra St. John knew a Nonprofit Administration Internship with Rise would be a great fit when she applied.
The Spanish and Nonprofit Management major worked closely with our Quality Assurance team. St. John also organized surveys and updated staff training to help keep us compliant with current standards.
She believes hands-on experience is important to her professional development as she begins her career and becomes a future non-profit leader.
"Learning and applying skills are two very important steps in the process," she said.
St. John finds value in learning Rise's person-centered perspective and hopes to continue her career at Rise. She is also interested in continued learning, which may include Global Policy studies. (Photo not available)