Clayton proud of the precision work he does at Meier Tool & Engineering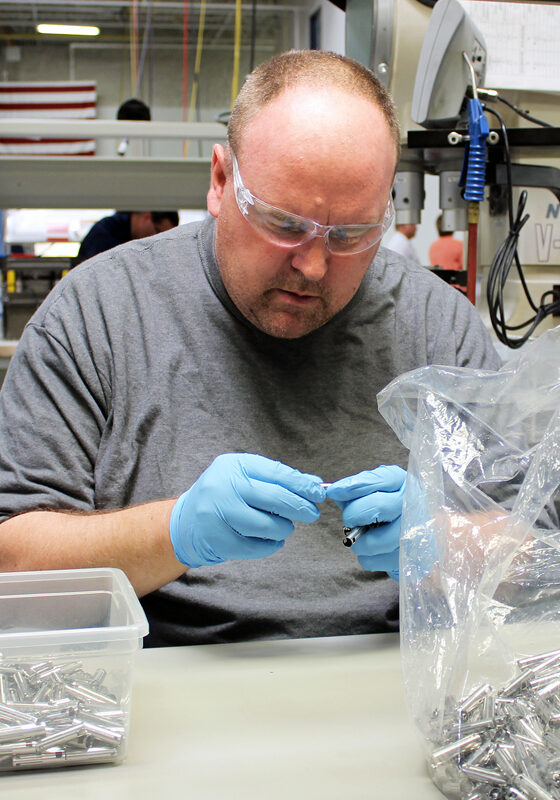 Employees at Meier Tool & Engineering, Inc.'s manufacturing plant in Anoka are proud of the custom tooling design, validation, and manufacturing work they do primarily for the medical and defense / aerospace industries. Managing upward of 250 different contracted parts, their work is innovative, precise, and of the highest quality. Their customers expect no less.
Clayton Skrove is proud of the part he plays in this custom metal-stamping business. Working on a wide range of components, Clayton is one of the last pair of eyes to check for quality and accuracy prior to parts being shipped to their end-users.
His inspection job requires patience, dexterity, and complete focus. Clayton uses those attributes to inspect, sort through, and quality-check upward of 6,000 pieces each day.
"It took me about a week of one-on-one training to learn the different jobs," said Clayton, who works from 7 a.m. to 2:30 p.m., Monday through Thursday. "I like working on a variety of jobs. It's a quiet work place, people are very nice and treat me well, and I have my own work station. All this really helps me focus on the job.
"I take a lot of pride in my work," he added. "I think I do a good job, maintaining my speed and accuracy. I hope to stay working here for a long time."
"Clayton is a valuable member of our production team," said Production Supervisor Janelle Tieken. "He's reliable, self-motivated, and detail-oriented — a real joy to work with. He works hard every day to exceed our customers' expectations."
Prior to getting his job at Meier in August 2017, Clayton worked for about ten years at Lakeland Tool & Die in Anoka with a Rise work team as well as at Rise's production facility in Spring Lake Park.
When he decided he was ready for a new and more independent job in a community business, Program Supervisor Kathy Frank worked with Clayton to find just the right position. Direct Support
Professional Brandon Klug follows up with Clayton and his supervisor on a regular basis to help ensure that everything continues to go well on the job and address any issues which may come up.
Receiving work experience and support from Rise has really paid off, Clayton says. For those people who are looking for employment, Clayton advises to "get good training and be patient — in the long run, it will really pay off.
"Going to work at a job you like will bring you happiness," Clayton added. "You will feel so much better, you will improve your social skills, and it sure helps financially!"
Clayton lives in Cedar and drives to work. In his free time, he especially enjoys shopping, going to movies, and attending old car shows. His favorite models are a '57 Chevy and a '70 Camaro.