Charlie retires after 40-plus years of working hard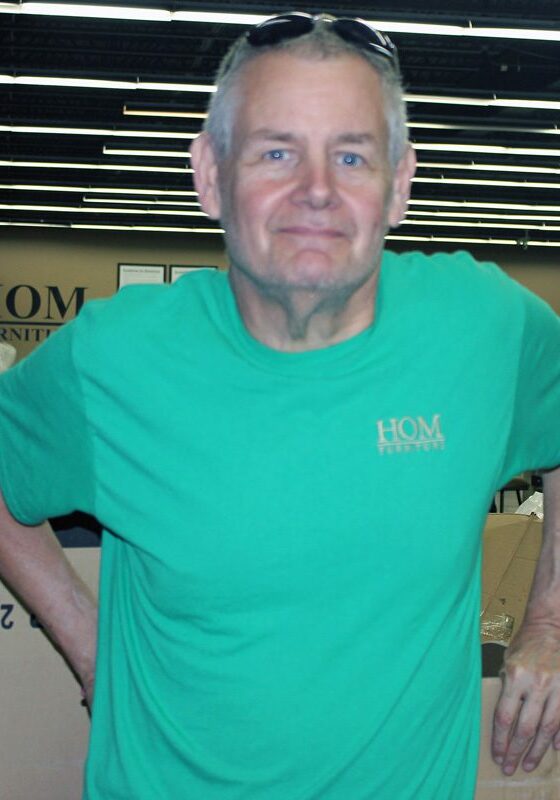 Charlie Frye has his first official day of retirement on July 2 already planned out: he's going to relax out by his backyard pool and maybe jump into the hot tub. Aahhhh….
Wait – what – RETIRE? Charlie's retiring?
This quiet, hard-working, steadfast guy is not one much for big surprises, but at his annual team meeting on June 26, Charlie quietly, but confidently, announced he was retiring as of June 29.
"I have thought about this for a long time, but didn't tell anyone," said Charlie who is 62. "I have been working hard for 42 years — that's enough. I feel it's just time. I want to go out on my terms; I made the decision. There are still other things I want to do. Everyone at my meeting was pretty surprised!"
Charlie came to Rise in 1987 for vocational assessment, career planning, and employment services. President Lynn Noren (several positions ago!) was his direct support/case manager. He can still remember his first day at Rise and meeting Lynn.
"It was the coldest day and I took the city bus from Mounds View to get to Rise in Spring Lake Park. I worked on a lot of different assembly jobs there at first and then got other jobs."
Charlie worked for a time as a dishwasher in a local restaurant and as a janitor in a nursery. He also worked for several years in teams each at then-Hoffman Engineering (now nVent) and Federal Premium Ammunition in Anoka.
Since 2013, Charlie has been a valued member of the work team at HOM Furniture in Coon Rapids. There he helps recycle HOM's furniture packaging materials, including more than 2 million pounds of cardboard, 52,000 pounds of plastic, and about 20,000 pounds of Styrofoam each year.
HOM's Operations Personnel/Safety Manager Dan Lentz says Charlie has been a tremendous asset to the team's production. "Charlie will be missed at HOM Furniture," said Dan. "He has been a key part of our operation over the past five years. Charlie has always been a hard worker, but more importantly, he is a great person. Charlie's positive attitude and wonderful smile will be greatly missed here at HOM."
Charlie says he will miss the people most. "I was really happy working here at HOM. We all get along really good and work as a team. Everyone at HOM is so nice and they appreciate our work and tell us that. I know I will come back and visit."
But now Charlie, who lives in Andover with his foster mom Jennifer Bolte and four roommates, has his sights clearly set on retirement. "I want to find some good hobbies to start. I just got back from a week at Camp Courage and had a blast – lots of good fishing, even though I only caught one small perch all week!"
Charlie wants to take in some Minnesota Twins and St. Paul Saints baseball games. "I've heard those Saints games are crazy fun," he noted. "There are so many things I want to do – maybe I will take up golf. I'd like to take another cruise – I've been on four to the Bahamas and Mexico with my foster family. Maybe we can go on another one."
Program Manager Kathy Ausmus, who has worked with Charlie over the years, said: "Charlie will be greatly missed at CIP-Coon Rapids and at HOM Furniture. Charlie always made it a point to swing by at the end of the day and greet everyone. His cheerful personality and smile will be a delightful memory. Congratulations to Charlie on his retirement!"
"I've worked really hard, I was a good worker, and I am proud of my work. I have done what I wanted to do."
Clearly, Charlie has developed his own recipe for retirement: Relax + Travel + Golf. Sounds great!
All the best to you, Charlie!