Bringing energy and enthusiam to his work, Dan Beauregard excels at cashiering job at Cub Foods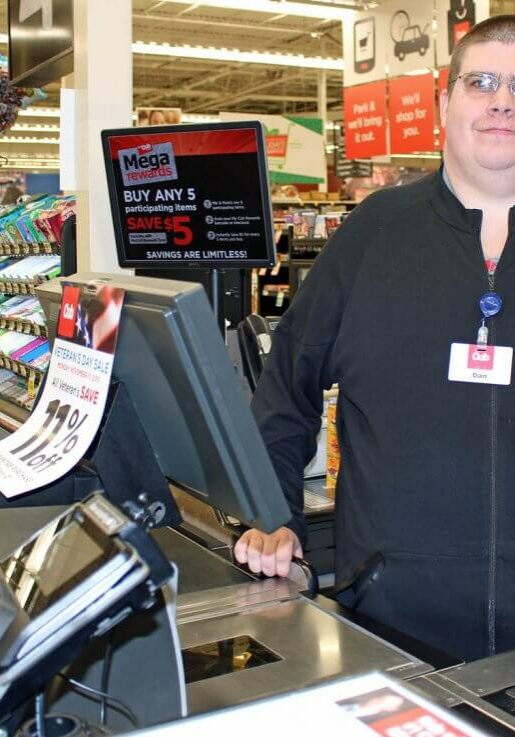 WITH THE STORE well-stocked and decorated for holiday grocery shoppers, Cub Foods at Northtown in Blaine is ready for the busy weeks ahead. From the bakery to the deli to the floral department to the shelves lined with groceries, Cub team members are primed to serve their customers.
Standing ready at his register, Dan Beauregard greets each shopper with a genuine, friendly smile. He is efficient in his scanning and checking people out and also assists customers who use the self-checkout registers if they need help. It's readily apparent he enjoys this busy job.
"I never thought retail would be for me," admitted Dan. "I was originally hired to stock shelves, but everyone who works at Cub is also trained in as a back-up cashier. I would always be the first one they paged to come up front because I was good at it and I got a lot of compliments from shoppers. So they changed my job to just cashiering and I really like that."
After graduating from Coon Rapids High School in 2009, Dan came to Rise for vocational and employment services. He worked at Rise Anoka as well as Federal Premium Ammunition in Anoka for a few years.
"Then I decided it was time for a change," he said. "Ross Wangensteen helped me with a career plan and then find this job. My mom used to work here at Cub years ago and liked it. I started last December.
"Now Tate Wegleitner checks in with me periodically to see how I'm doing and if I need help with anything. But things are going great."
"Dan takes his job at Cub very seriously and has received nothing but excellent reviews from all his managers," said Ross. "His coworkers have said they love the energy and enthusiasm he brings to any situation with customers and coworkers alike."
Working between 15 and 25 hours a week, Dan says that helping customers is his favorite part of the job.
Helping people seems to be a big part of who Dan is. He also volunteers twice a month at Unity Hospital in Fridley where he is a messenger and dispatcher, running errands and assisting people however he can.
"My mom had volunteered at Unity years ago when she was pregnant with me," said Dan who is 31. "She wanted to start up again and asked if I wanted to join her so I said sure!"
"One time there was a patient who was really lonely and didn't have any visitors," Dan remembered. "They asked if I would want to go sit and visit with her for an hour or so and I was happy to do that. I think that made a difference for her."
Dan said his long-term career goal is to be a nursing assistant and he is researching local training programs to complete that certification.
Engaged to Heather, the "love of my life who I wouldn't trade for anything," Dan enjoys spending time with both her and his mom. He has a special interest in cars and does a lot of research into them.
"I am really happy here at Cub and like it a lot. It's a nice environment to work in. I plan to stay a long time."
This article appears in the December 2019 issue of the Rise Reporter.