Bev Wolters thrives on the variety of volunteering projects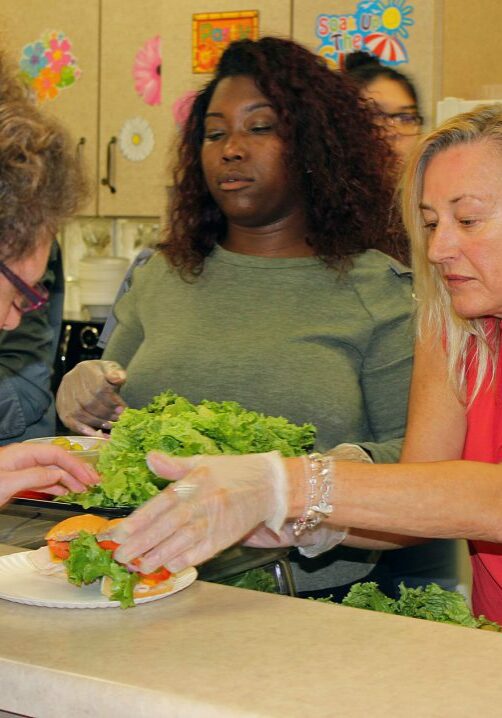 "I think variety is the spice of life for volunteering," said Bev Wolters. "I really enjoy doing so many different kinds of things with different people and at different locations."
Bev discovered a list of volunteer opportunities with Rise online in October 2016 and met with Volunteer Coordinator Zoe Leonard-Monrad to see what would best suit her interests. Originally, she thought she would volunteer her time assisting Rise's Art Therapist Stacy Gross with the Art Speaks program, but decided that although she was very impressed with its services, she would rather not commit to just one project.
"Bev is my go-to person when I have special one-time or short-term projects," said Zoe. "She comes in with a big smile, ready to get to work on whatever we need. Rise team members really appreciate her enthusiasm and her flexibility, and I know that if it works with her schedule, she is up for anything!"
In the past year or so, Bev has helped serve at a number of Rise picnics and holiday parties (like the special lunch here at Rise's Coon Rapids location), tended to bake sales, done clerical projects, sold game tickets at the Celebrate Rise Fundraising Gala, and even helped hang an Art Speaks exhibit at the Blaine City Hall with Stacy.
Heidi Palmer, Rise's executive administrative supervisor, noted that Bev has been a great help to her and the administration support team. "It's really nice to be able to turn over a clerical project to Bev when we need another set of hands. We always appreciate her willingness to come in and help."
Bev's willingness to volunteer in these many and varied roles helps free up hours of valuable staff time so they can focus on Rise's strategic priorities.
Bev retired a few years ago after working in both the merchandising and property management fields and has volunteered with several other organizations. "I was looking for something different and I sure found it here," she added.
When asked what she likes best about her volunteer time at Rise, Bev said, "I love the interactions I have with the people — really touching their hearts and souls. When I leave, I feel like I have accomplished something."