Andrea continues to explore new career path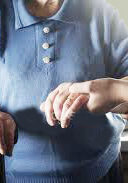 Given the current COVID-19 pandemic, people with direct support skills and experience are in high demand. Andrea knows how important her work as a personal care assistant (PCA) is right now, even though she has her career goals set in a different direction.
Andrea moved to Minnesota from Illinois last fall and was referred to Rise's IPS Creating Access program by her therapist Brian McCullough at the Hennepin County Mental Health Center (HCMHC). She started working with Hollie Petersen, a Rise employment consultant, in January for assistance in identifying and developing new career goals, preferably in the retail industry. As Andrea has worked for so long in the health care industry, she feels that working in retail "would be a breath of fresh air."
Hollie has assisted Andrea in many ways, finding interview clothes at Rise's Michael's Closet, transportation to job interviews, and learning the Twin Cities public bus system. Erin Kampa, a career rehabilitation counselor with Minnesota Vocational Rehabilitation Services (VRS), has helped fund her transportation, interview clothing and work uniforms, and should Andrea decide to return to school, will offer education planning.
She had some promising job interviews, but before Andrea was officially offered a new job in the retail field, the COVID-19 crisis hit causing stores to temporarily close.
Within the first month of working together, Andrea was hired for two separate PCA positions which are valuable for building her transferable skills and giving her a source of income as she explores new career opportunities.
Andrea is looking forward to resuming her career development and job search again soon. In the meantime, she and Hollie continue to work on successfully maintaining her two jobs. They have also utilized community resources to get Andrea internet access for job searching and communication which has been especially challenging to find now that public libraries have been closed.
"Not being able to meet in person has been difficult," Andrea says. The two have started doing video chats which she added are really important "to maintain some sense of social interaction and address concerns or new ways to cope and spend my time throughout the crisis."
"Andrea is resilient, goal-oriented and determined to find a new job," said Hollie. "She is able to balance two jobs and has learned to navigate a new city, all while developing job search skills to launch her into a new career field."
Andrea added that working together with Hollie has helped her learn to advocate for herself and "put things into perspective, like seeing the bigger picture when I need to make a decision, and recognizing the pros and cons of my choices."
Typically dressed in personal protective equipment (PPE), Andrea says that her work has not been impacted much during the current health crisis. And an added bonus is that she gets to ride Metro Transit buses for free!