Amira's first job sets her on a great career path with Burger King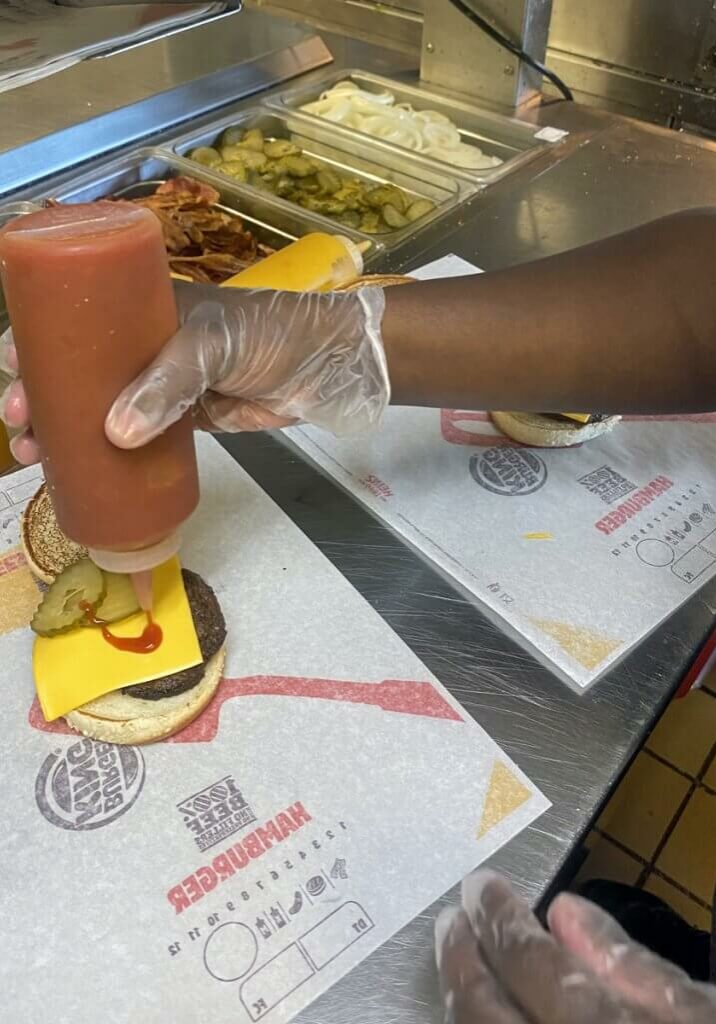 Just a little more than a year ago, Amira was looking for her very first competitive job, unsure as to what career path she wanted to take. Today, she is working successfully at a Burger King in a small town in Central Minnesota and hoping to get training there to eventually be an assistant manager.
With only some unpaid work experiences through her school-to-work transition program, Amira was referred by Minnesota Vocational Rehabilitation to Rise's Minnesota Employment Center (MEC) for People who are Deaf, DeafBlind, and Hard of Hearing for job placement services.
Occupational Communication Specialist Caitlin Lashbrook worked with Amira, who communicates through American Sign Language (ASL) and had limited comfort in written English, to develop a career plan and prepare for job interviews.
"From the very start, I was impressed by Amira's professionalism, her positive attitude and enthusiasm, and genuine motivation to engage in the job search process," said Caitlin. "We would pull up job leads and discuss the duties and relevant work-related vocabulary."
When Amira landed an interview at Burger King, Caitlin said she "came with an upbeat motivation that would impress any employer. After a few basic questions, which I facilitated through ASL, he hired Amira on the spot! I assisted her for the first few days to complete her online and hands-on task trainings."
Amira was originally hired to wash dishes as well as clean the lobby and outside grounds, but now also assembles sandwiches, gathers orders for the drive-thru, and cooks burgers and fries. She has evolved to being a valued member of their work team.
Caitlin assisted Amira in developing basic communication cards for her to use with her managers and coworkers. With the recent arrival of Covid-19, all employees were required to wears masks while working.
"Even small mouth movements are helpful for people with hearing loss to support communication, so to lose that was a tough adjustment for Amira," Caitlin noted.
"We addressed her frustration by educating her co-workers that she is not going to be able to pick up anything from speech now as well as created new communication cards from pictures Amira took of various items that are discussed regularly. This helped everyone tremendously and she really appreciated that."
"I really like my job," said Amira with Caitlin interpreting in ASL. "My boss is very supportive and helps other workers to understand that I need visual information – gestures, pointing at things to indicate things, etc. I feel like I've learned a lot in only one year."
Transportation in a small town continues to be a challenging issue, but Amira's employer has been willing to adjust her work schedule to accommodate the Tri-CAP Transit Connection schedules. He is very supportive, as he knows Amira is a dedicated, responsible worker, and has been willing to make other job-related accommodations when necessary.
Having just celebrated her one-year anniversary on August 1, Amira is excited that her supervisor supports her career goals. He wants to train her on all aspects of the store, and Caitlin will be assisting in her training with occupational communication support services.
This article appears in the September 2020 issue of the Rise Reporter.