Allison makes a career change to work with kids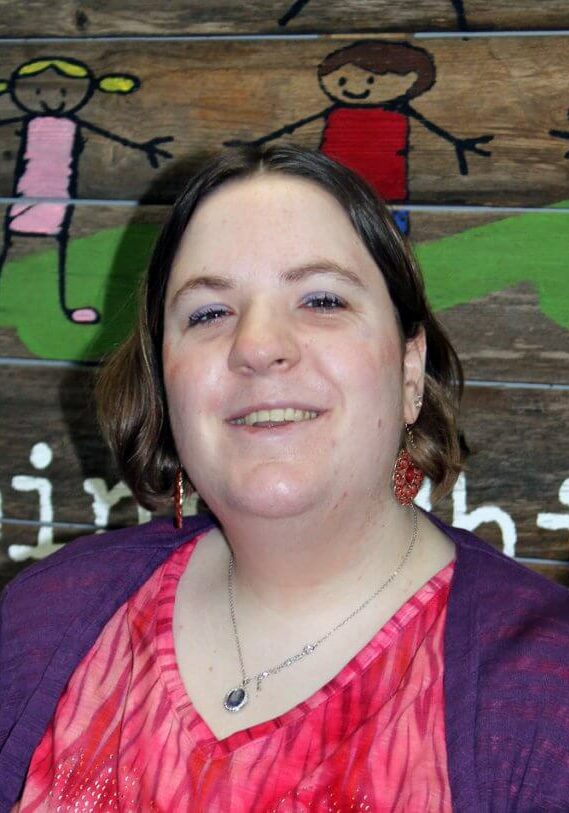 You may recognize her smiling face from a few years ago when Allison Dukek was #37 in Rise's 45 Stories for 45 Years feature. Back in 2016, she was working as a data entry clerk and receptionist at Rise Bloomington, but moving forward with plans for a big career change.
Today she is proudly working as a teacher's aide at the Hypointe Childcare, a licensed daycare provider in downtown Lakeville. It is just the job she was hoping to get.
Although Allison is skilled in a wide range of software programs, she realized her true passion was working with children after volunteering at a church daycare. Being a beloved aunt to her young nieces and nephew also helped her realize that that really was the career path she wanted to pursue.
With assistance from Rise's Employment Consultant Sarah Gustafson, Allison found "the perfect match." She works primarily with babies ages nine to twelve months, but will help in rooms that have children from one month to six years old, if needed.
"I love taking care of the babies, rocking them to sleep, feeding them, putting them down and getting them up from their naps, comforting them when they need a hug," Allison added. "I want to show them I really care about them and love knowing I have a hand in what they'll be someday.
"It's a relaxed atmosphere with at least three teachers in each room and we are all willing to help each other and do our part. Jen [Orth] and Tricia [DeMarais], the owners, are both moms so they put the needs of the kids and the staff first."
What makes Allison a great teacher's aide? "I think I am a very caring person – and outgoing, smart, and having a positive attitude. I want to give to others. I am very determined to prove to people that I can do great things."
Coming from a loving family who always gave her the support she needed to be successful, Allison says, "I want to be a voice for others who were labeled and told they wouldn't accomplish much. Even my own doctor said I wouldn't be able to handle a job in the community. I want to encourage people to push forward. You can do anything you set your mind to. Don't let anyone destroy your dreams."
"Ally is a great addition to our team," said Tricia. "Her passion for children shines through in her day -to-day tasks- and we love watching her engage with the children alongside her co-teachers."
Allison graduated from Lakeville High School in 2004. She earned her teacher's aide certifications by taking three online classes and tests which she will have to renew every two years.
Allison checks in Sarah every afternoon after work; Sarah visits Allison at Hypointe about once a month to help ensure she continues to be successful.
"Allison's strength of purpose defines her," said Sarah. "She is confident in her dreams and she makes them come true."
"If it wasn't for Sarah's inspiration and encouragement, I wouldn't have gotten as far as I have in my career," Allison noted. "I owe everything I have become to her. She has been my rock since I started working at Rise."
Allison lives in a group home in Apple Valley with three other housemates and takes Lyft to work Monday through Friday. The women enjoy hanging out together and Allison especially likes to cook for them dishes that her beloved grandmother taught her. She also enjoys bowling, going to movies, and shopping.
This article appears in the March 2020 issue of the Rise Reporter.