Allie Rumpel is an "awesome" Wisconsin worker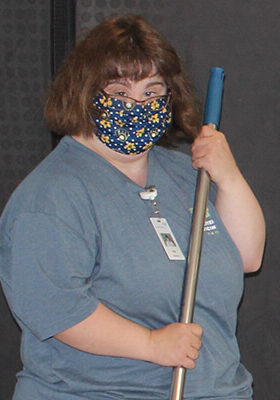 "Each time  we've come back from a closure, she's gotten better and better at her job. She's so dedicated! " – Kim Ersland, Rise job coach
Allie Rumpel works two days a week at Western Wisconsin Health Fitness Center (WWHFS) and three days each week at a local grocery store, both in Baldwin, WI. Prior to the pandemic, Allie was active throughout town, enjoying racquetball and swimming. She also was passionately involved in a cooking club with Special Olympics. Unfortunately, much of this stopped when access to local activities and workplaces closed. Many reopened, but closed again due to changing health guidelines.
This left Allie and others like her who have disabilities opportunities for connections and involvement, leading to feelings of confusion and anxiety. For Allie, her Rise job coach Kim Ersland shared that, "Some of her clubs and Special Olympics were closed down, so she sometimes feels isolated. She's a go-getter and needs to be social. She can't wait to get back into those things."
Fortunately, Allie's work at WWHFS began again in early Summer 2021. As she describes her checklist of tasks, Allie is responsible for "folding towels, mixing cleaning solution, cleaning exercise machines and weights, washing windows and mirrors, sanitizing door handles, and basically making sure the place is clean." Her favorite task, above all else, is vacuuming carpets because, "the floor is the quickest to get dirty."
Allie knows what it takes to be a great employee and person, saying, "At work, it's important to be happy and have a good attitude. I am fun, energetic, and I respect everyone. I treat people with kindness."
As a job coach, Ersland works closely with Allie and other people served by Rise on job skills development, supervision, positive reinforcement, and more. She will join Allie for up to and hour of each shift to support with getting started, answering questions, developing working strategies that help Allie stay focused, and helping Allie learn more technical or detail-oriented tasks over time.
She is thrilled WWHFS has continued to bring Allie back after multiple closures because, "Though it's important to have a coach work one-on-one with Allie, each time we've come back from a closure, she's gotten better and better at her job. She's so dedicated! She wants to be working." The impacts made with each individual are important to Kim. "My favorite part of my job is when the light comes on with my persons served and they feel confident in their job. It can be the simplest of things like handling a vacuum or learning how to sweep," Ersland said.
Allie, who also lives in Baldwin, clearly has a great relationship with her WWFHS team. When asked how he describes Allie as an employee, center manager Scott chimes in with, "Can I use the word awesome?" followed by a laugh. "Before we reopened in June, I had heard so much about her. She's super self-sufficient and everybody loves working with her." Ersland notices the connection, saying, "Allie is always willing to go above and beyond. Her favorite thing is to make Scott proud." The relationship is strengthened by the fact that both Scott and Allie are both big Milwaukee Brewers baseball fans. Allie even sports a custom Brewers face mask during her shifts!
Allie enjoys spending her free time traveling to Milwaukee for games, being active, and listening to music by Selena Gomez. For new skills she would like to learn, Allie could see herself adding dusting to her regular checklist of tasks, which Scott agrees with a smile, "I bet we can make that happen." In the future, Allie would like to explore something culinary. "I really like cooking," she says, making sure to note that it would be important to her to focus on healthy foods like fruits and vegetables.