Making the rounds at Deck and Basement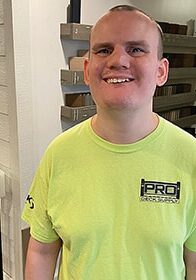 Alex White enthusiastically guides us through Deck and Basement, his workplace in Northeast Minneapolis. As he describes his tasks, his excitement occasionally leads him astray, but his supervisor, Wendy Fisher, asks him questions that steer him back on course. This tendency for distraction is a characteristic both Alex and his support system tackle daily.
"When he starts asking questions about things he can have, I say, 'Alex, we need to work first, and then we can talk about things. Is that okay?'" Fisher says. "He usually says, 'Yeah, that's fine.' But sometimes needs a reminder."
He's held his part-time position here for two years. Twice a week, he works to empty trash from the office and warehouse, cleans offices, stocks bathrooms, and performs other janitorial duties. "My favorite part is mixing up the mopping solution," he said. That's because he is fascinated by vinegar jugs and uses vinegar to mix the mopping solution.
Alex is also captivated by wood, so working in an environment with a deck showroom and lumberyard is challenging for both him and the Deck and Basement crew. "Alex gets very excited, and when he gets excited, his hands fly. He's not trying to be forceful; it's just one of his things," Fisher said. "He especially likes wood that hasn't been green-treated. He asks to take it home."
Guiding Alex through these moments of distraction can be challenging, but with consistent support and feedback from his Rise job coach, Sarah Gustafson, he and his supervisors have built a positive relationship, enabling him to enjoy long-term employment that he enjoys.
"I do good stuff," he said.
Deck and Basement employees enjoy seeing Alex and are proud of their relationship with him and with Rise. The persistence to work together continues to pay off. while creating an inclusive environment.
"Everyone deserves an opportunity. If we can do it, that's great," says Fisher. "If the opportunity doesn't work out for that person, it's okay too."