ABC opens up new work opportunities for Rise teams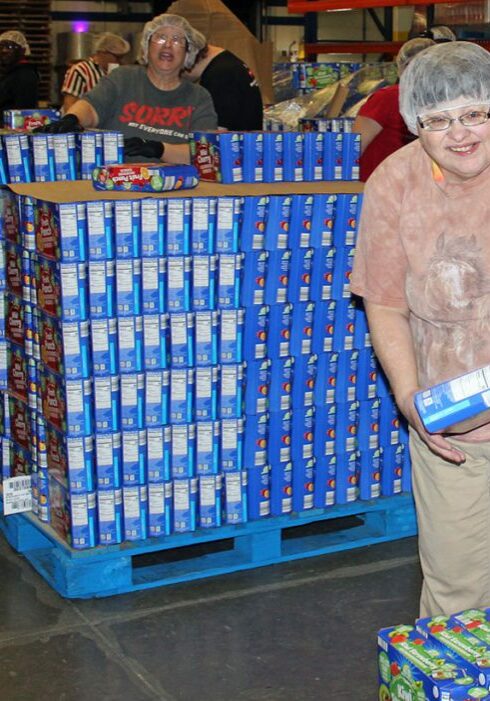 If you're a parent, an athlete, or someone who just likes good fruit juice, chances are you've enjoyed a juice pouch produced at the American Beverage Company (or ABC, formerly Faribault Foods) in Elk River.
ABC is a Safe Quality Food (SQF) Level 3 certified beverage manufacturing company that produces a variety of conventional and organic juice products in stand-up pouches. Pouch brands such as Juicy Juice, SunnyD and Back to Nature are manufactured at ABC, as well as several regional and national store brands. It's a high-tech, fast-paced plant, making it a great place to work for people who are up to the challenge, like Diana Porter shown here.
Currently, more than 30 people from Rise's Community Integration Program (CIP) in Coon Rapids and the Community-Based Training and Employment (CBTE) program work in teams or side-by-side with other ABC employees throughout the expansive facility.
Based on ABC's daily posted work schedule, Rise Direct Service Professionals (DSPs) Lisa Fischer, Carolyn Williams, and Holly Hurlbert coordinate and assign people's work tasks to meet the company's specific production requirements.
Moving like a synchronized machine, teams assemble more than 65 pallets of six-packs of juice pouches, wrap, and prepare for distribution to stores across the country. In addition, people work with ABC employees directly on the juice line or packaging juice pouches in other areas of the plant.
What started as a small work group in March 2004, has grown and expanded over the years. Rise's Sales Representative Nancy Hoff credits Dave Zimmerman, the warehouse manager at ABC, for continually looking at new opportunities for Rise workers.
"I appreciate that when new products are added or a system changes, Dave will check to see if it would be a good match for Rise workers," said Nancy. "And when ABC had some labor shortages, Production Manager Scott Eggert was open to having Rise workers try out different positions throughout the plant."
"The value Rise brings to our company has given us an advantage over our competition," Dave said.
Lisa, who has worked at eight different community work sites in her 29 years with Rise, is always on the lookout for additional job opportunities. She gets great support from Dave, Scott, work area supervisors, and Jenny Reyo in ABC's human resources department.
"I'm all for asking, 'Can we try someone on this job?' or 'Do you need some more workers in this area?'" said Lisa. "They have been really open to giving people opportunities to prove themselves in other areas which is exciting."