21 Roots Farm provides nurturing, transforming environment for Kristi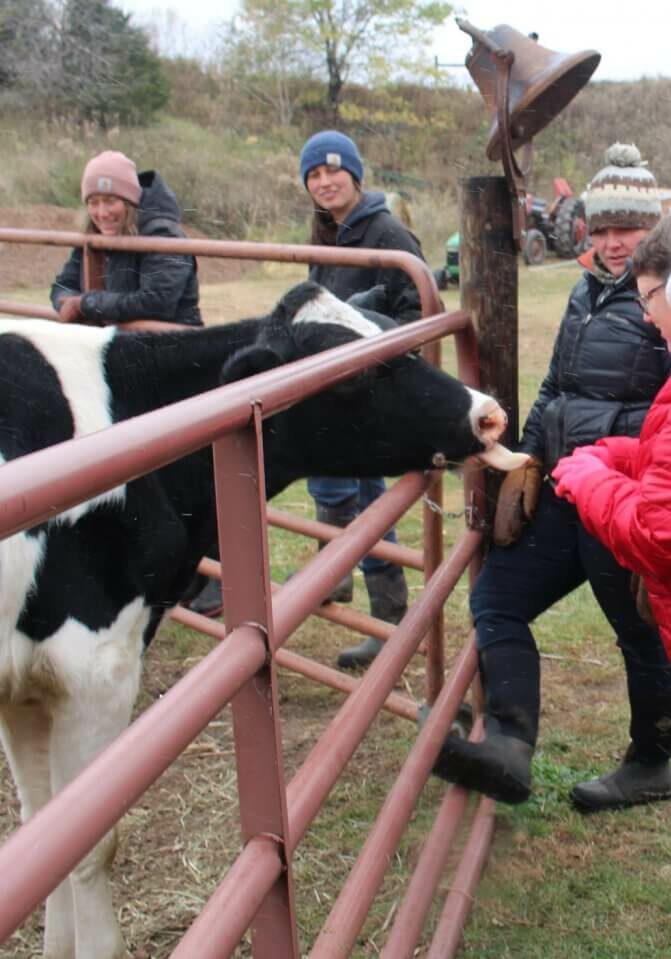 Despite the initial  snowflakes of what would end up being an October record snowfall the following day, Kristi Quammen was excited to spend the afternoon at the 21 Roots Farm in Grant, Minnesota, just outside of Stillwater. After greeting Oats, her favorite barn cat, she led the way across the farm yard, eager to gather freshly laid eggs from the chicken coop.
With a basket of five pastel-colored eggs, Kristi then made her way over to the pen where she lured two cows, Snickers and Sir, over for some just-picked apples from the orchard.
21 Roots Farm co-founders Amy Peterson and Brittany Wiitala, along with associate Laura Lutz, offer high-quality nature- and agriculture-based programming to assist people with developmental disabilities cultivate a sense of purpose and community. In addition to gardens, fields, and orchards, the farm is home to alpacas, goats, chickens, donkeys, and barn cats.
With her part-time job as a lobby attendant at Beef O'Brady's restaurant in Andover on hold due to the pandemic, Kristi also stays connected remotely with the team at Rise Coon Rapids.
Kristi has been coming to 21 Roots Farm since the fall of 2019. As her interest in gardening and other farm activities grew, Kristi and her mom Karen have been making the one-hour drive to 21 Roots Farm from their home in Andover about three times a week.
Follow-Up Specialist Pam Satek meets with Kristi every Monday to help ensure her continued progress at the farm. Kristi also has done volunteer work with one-on-one supports from Pam at Feed My Starving Children in Coon Rapids and Global Health Ministries in Fridley.
Brittany, Laura, and Amy have experience in both farming and working with people who have disabilities and are passionate about their mission. They officially began operations in the spring of 2019, and since then, have had more than a thousand visitors participate in customized activities designed to help people grow and flourish in this natural environment.
"Working at the farm has been an amazing way for Kristi to grow and expand her potential in a truly nurturing environment," said Pam. "She really enjoys contributing to the many farming and gardening tasks and loves the animals and people she has met here, too."
Kristi's mom, Karen, said the times spent at 21 Roots Farm have been life-changing for both of them. "Kristi is in all her glory – she just fell in love with this place and feels like she just belongs here. The farm has opened up so many new experiences and possibilities for her."
One of the side benefits for Kristi, her mom noted, is that she spends so much time outside and gets good exercise. In addition, spending time at the farm has cultivated an interest in gardening for both mother and daughter as well as eating more fresh vegetables!
Pam and Karen both noted that the biggest change in Kristi from her experiences at 21 Roots Farm is her increased self-confidence and ability to express herself.
"She is also forming relationships with others and enjoys being part of a team to get farm and gardening chores done," Pam said.
"It's been truly amazing to see the transformation in Kristi over the year that she has been coming here," said Karen. "She has learned so much here and developed transferable skills that could possibly lead to employment in the farming area or agricultural places."
"What a privilege it is to see Kristi flourish at 21 Roots Farm! Our dreams are coming true right before our eyes!" said Amy.
For more information about 21 Roots Farm, check out their website at 21rootsfarm.org and watch some videos.
Photo: Kristi fed Sir a freshly picked apple from the orchard. Co-founders and staff, Brittany Wiitala, Laura Lutz, and Amy Peterson didn't seem to mind the chilly day on this beautiful farm outside Stillwater.
This article appears in the December 2020 issue of the Rise Reporter.