Meet our 2023 Rise'ing Stars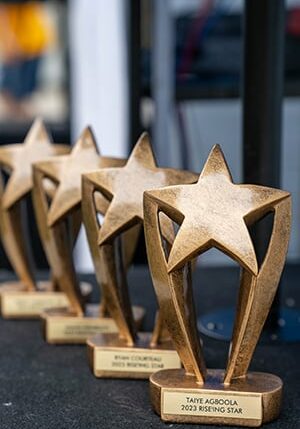 Congratulations to our 2023 Rise'ing stars!
This year we recognize six people who are doing big things in their communities. They have overcome obstacles, met and surpassed personal goals to achieve great success!
 Taiye Agboola
Taiye Agboola has always had an impressive work ethic and a strong desire to be independent. He began working on our production floor in 2014 through our sensory program for people who are Deaf, DeafBlind, and Hard of Hearing. While he had occasionally worked at community sites, late last year, an opportunity arose to consistently switch from production to a community site at Ajax Metal Forming Solutions in Fridley, Minn. He was nervous about the change and communication barriers that might arise due to sensory issues. He worked through those uncertainties with sensory staff support and now works independently at Ajax daily!
Taiye's independence and diligent work attitude have allowed him great success. And he continues to thrive while overcoming his naturally introverted personality to communicate more with coworkers and supervisors. He shows up early and works until the very end of his shift. We are so happy to see him find success.

Ryan Courteau
The first task Ryan Courteau took on when he became a Finley's Dog Treats store ambassador was to "practice his smile" because he hadn't been out in the community much. He was shy, quiet, and hesitant to engage. But his practice and persistence paid off! Ryan is now so outgoing and social that he was promoted to Senior Finley's Brand Ambassador. He is an outstanding leader who trains new ambassadors in a fun and supportive way.
Even the competition is impressed with his brand knowledge. They recently contacted Finley's founders to tell them about their positive experiences with Ryan at the store level. He has become a next-level employee devoted to and proud of his job. Ryan's future is bright!

Teddy Harrison Jr.
Teddy Harrison, Jr. nurtures an artistic talent that has become a great source of pride and joy. He lives with a brain injury sustained during a car accident when he was three years old, which means he tires easily and can sometimes become emotional. He took up painting through our art therapy program shortly after coming to Rise two years ago and has embraced his talent with extreme passion.
Because he is happiest when creating new and beautiful art, Teddy paints daily, including on his days off at home with his mother. His favorite day of the week is Friday when he paints one-on-one with our Art Therapist, Stacy Gross. This past year he entered his work at the Anoka County Fair, where judges recognized his talent, awarding him a blue and a second-place ribbon!

Jason Heinbuch
Jason Heinbuch is a devoted worker and problem solver. Any goal Jason sets, he achieves. He works incredibly well with his coworkers and staff; whenever he notices a problem or sees someone struggling, he'll be the first to volunteer to help. Jason works at Westfall Technik in New Richmond, Wisconsin, where he is called upon to do many different tasks. He loves these new opportunities because enjoys learning new things and problem-solving to be more efficient. He is also skilled at teaching tasks to his coworkers.
Jason is known for his kindness and dedication to his job. You'll never see him sitting down, he loves to keep busy. This attitude makes him a role model for those he works with. Everyone looks up to him and appreciates his heart and passion.
Daniel Dooley
Daniel Dooley possesses all the qualities of an accomplished person. He has found meaningful work, is creating the life he wants, and continues to rely on his support while giving back to our community. Currently, Daniel is working at Bowlero, a local bowling alley and arcade, where he takes great enjoyment from upbeat customer interactions while hustling to assist his coworkers.
Earlier this year, he stood before the Minnesota Legislature to publicly advocate for the Legislative Mental Health Network bill he supported. Daniel participates in Rise's IPS supports program in Hennepin County. The program has allowed him several opportunities to build interpersonal and job skills as he has explored various jobs, finally finding work where he thrives. Daniel is especially resilient as he navigates the ups and downs of life while working toward his goals.
Stacey Goede
Stacey Goede has been a mainstay through some major changes this past year. As Rise transitions our production work to community worksites, she has become an expert in the processes of our Cummins Power Generation work teams as we move this big job from our internal programs into the community to Cummins. The move has come with much change and, at times, frustration, but Stacey has remained professional and dedicated to the work. She has taken on new roles, become an expert troubleshooter, and learned many new things while going above and beyond communicating the changes to our partners at Cummins.
Stacey is an incredibly hard worker who is passionate about her work. She carries a positive and spunky attitude that brings joy and laughter during even the most stressful situations.