Art Speaks sessions continue in-person and remotely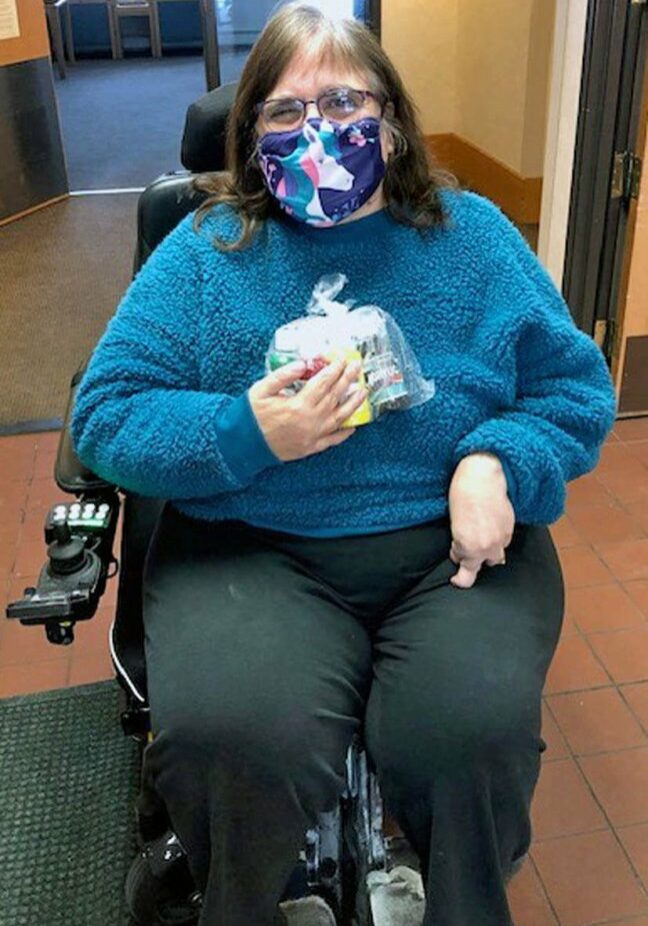 Expressing oneself through art has been not only fun, but therapeutic for many people during the pandemic.
Rise Art Therapist Stacy Gross has found creative ways to enable people who are both receiving services at a Rise location as well as remotely from home to continue with their artistic endeavors.
"Some people at home choose their own art project to work on remotely and others join in the projects we are doing at a Rise location," said Stacy. "I mail people supplies or drop them off at their homes so they have what they need to join in with others during a regular art session."
Tracy Bird, shown here, is excited and grateful to receive art supplies sent to her home. She wanted people to know she was smiling behind her mask. ~ Yes, Tracy, we can see your big smile in your eyes!
Rise's Art Speaks program complements other therapeutic and habilitative services people receive. Stacy guides them and encourages them to speak out through different art media.
"Creating art provides opportunities for self-expression and fostering one's self-esteem," said Stacy. "Through art groups and exhibitions, our artists experience the chance to find their voice and share it with others. Creating art also helps people relax and reduces anxiety, especially during these most unusual times."
Depending on people's interests and requests, Art Speaks sessions may take on different formats.
"Some people enjoy telling me what to do as I am making the art!" Stacy explained. "Other times, I create something and we talk about the process and what I am doing. We listen to music and talk about art. It's nice to do multi-sensory art for those who aren't necessarily as verbal or would prefer to relax while others paint or draw."
Recently, VOYA Financial in Minneapolis generously donated books of specialty paper and sets of paint which their employees put together into 25 sets that Stacy gives out to people doing remote services.
This article appears in the March 2021 issue of the Rise Reporter.