Laura works on the front lines at Walmart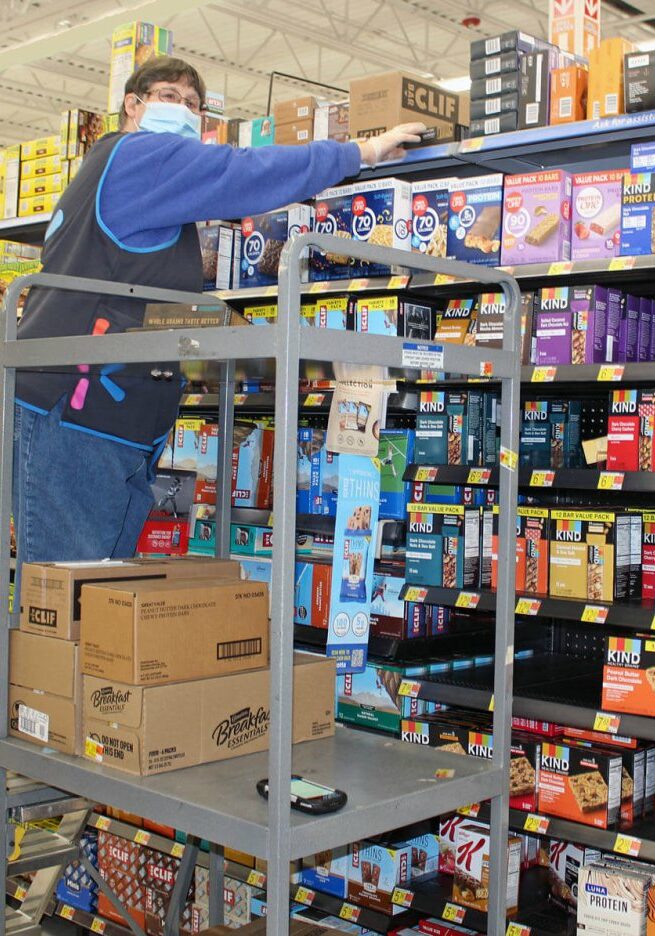 "Wearing a mask has been the biggest challenge for me with the pandemic because communicating is harder," said Laura Lecher using American Sign Language (ASL). She works as a stocker at the Walmart in Forest Lake.
"Before the pandemic, I was able to read people's lips and help people faster. But now with masks, it is a huge challenge. I rely more on writing notes and showing items. Sometimes I will show them the back of my vest which indicates I am Deaf. I then lead them to coworkers who can help them."
Laura says she is proud to be a frontline worker and help the community. "It is very important that people can still get things they need such as food and other essential items."
Laura received career planning, job placement, and support services from Rise's Minnesota Employment Center (MEC) for People Who are Deaf, Deafblind, and Hard of Hearing.
Despite some challenges along the way, Laura was proud to reach her two-year anniversary in January.
"My favorite part of my job is interacting with coworkers and having some fun during the workday. I like interacting with customers and helping them with what they need."
"Laura is a great Walmart employee and has been able to stay positive even during these very difficult times," said Jody Gertken-Lomanto, an occupational communication specialist with MEC who provides follow-up support services as needed.
"There have been good things that happened for me during the pandemic," Laura noted. "I became a grandma for the first time! In addition, I was able to transfer from the Walmart in Cambridge to Forest Lake and I really enjoy working in Forest Lake. We have received a little bonus from Walmart a few times due to working during the pandemic."
This article appears in the March 2021 issue of the Rise Reporter.