Jacob's co-workers appreciate his attention to detail, solid work ethic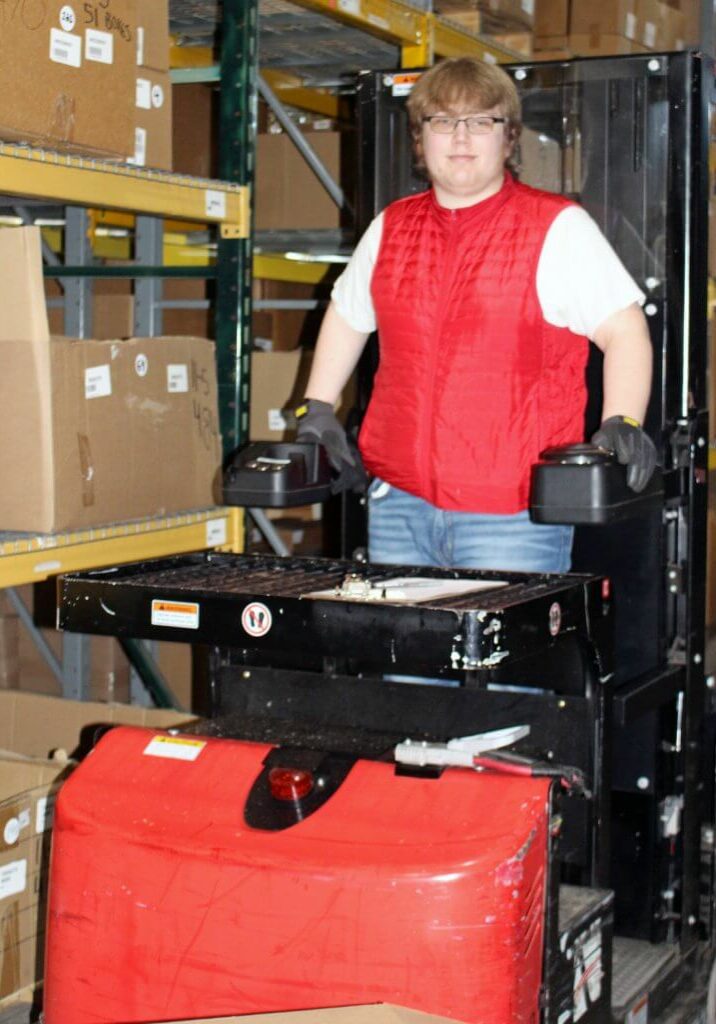 With homeowners servicing their lawn mowers to be stowed away for the season and then tuning up and preparing their snowblowers for the coming winter, Medart CPD in Anoka is a busy place. As a distributor of more than 40,000 small engines, parts and equipment for lawnmowers and snowblowers, employees fill and ship out orders for customers across the country.
Jacob Bohm has just the right skills to be part of the hard-working Medart team. His co-workers appreciate that he is detail-oriented, dependable, and meticulous in the work he does.
He is also a quick learner and self-starter, Warehouse Supervisor Tammy Wittmer noted. "Jacob usually arrives about fifteen minutes early so he is ready to clock in on time and get right to work. He does a great job and is a hard worker."
Jacob typically fills at least thirty orders during his five-hour shifts, Monday through Thursday. Taking incoming orders, he scans them into a computer which gives him detailed information as to the aisle numbers where the specific parts are located in the expansive warehouse.
"I usually do about six orders at a time which helps cuts down on extra walking and time," said Jacob. "Each order usually has five or six parts so I always carefully double-check them to make sure they're right before I turn them over the people who ship them out. We work together as a team."
After four years of working his first-ever job in a retail environment, Jacob decided earlier this year that he was ready for a change. Sue Featherly, a Rise employment consultant and follow-up specialist, assisted Jacob, who is 23, in his career planning, job search, and interviewing; he started work at Medart in August.
"I knew Jacob would fit in well at Medart because he is such a hard worker and so reliable," said Sue, who checks in about twice a month to help ensure that things continue to go well on the job. "It is great to see how much he enjoys his work and is building good working relationships with the others."
In his free time, Jacob enjoys video and computer games. He would like to perhaps work in the computer field and may pursue that career field someday.
This article appears in the December 202 issue of the Rise Reporter.