John meets the huge challenges of starting a new life over in Minnesota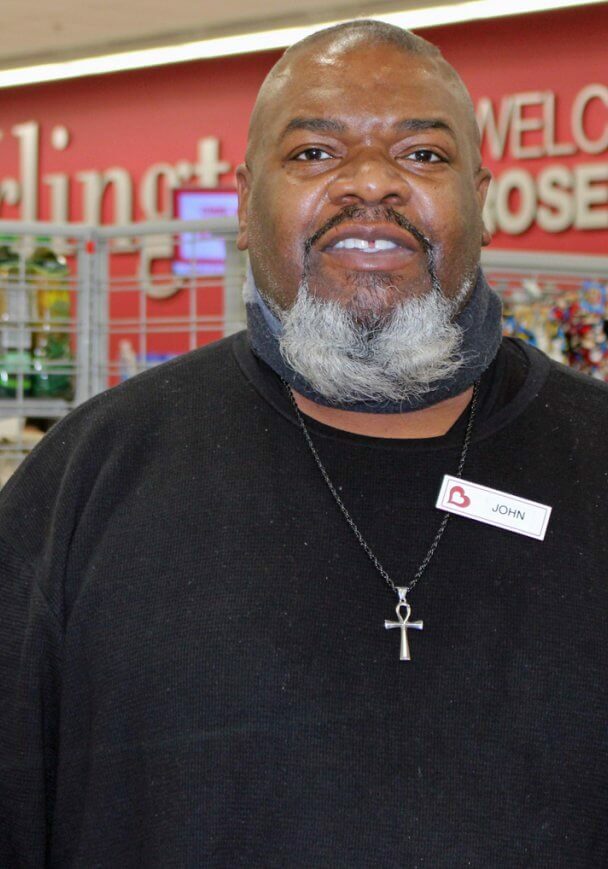 Having worked since he was 13 years old, John Bradley's strong work ethic and pride in a job well done have been honed over many years in different career fields. Starting over in a new town with a family to support has been challenging, but given's John's perseverance, it's been worth it.
Following the devastation that Hurricane Katrina wreaked on New Orleans back in 2005, John moved his four children north to Minnesota. They returned to Louisiana a few years later only to be hit by another hurricane! So this time, they packed up and moved to Minnesota for good.
Without a job or resources, John and his family moved into a homeless shelter in downtown Minneapolis and began the arduous task of rebuilding their lives in a new city. He had previously worked for the U.S. Postal Service, but a traumatic brain injury made finding meaningful employment a real challenge.
Having been denied support benefits by the Social Security Administration (SSA), John volunteered to participate in a Supported Employment Demonstration (SED) project in April 2018. Funded by the SSA, the SED study was designed and is managed by Westat in Rockville, Md., to support people in finding employment by using and testing a variety of supports.
Rise is one of 30 agencies across the United States participating in the study and the only SED agency in Minnesota. Rise is serving 90 people through this three-year SED project.
John's team from Rise includes Employment Consultant Meghan Canono, Care Manager Sarah Crampton, and Nurse Care Coordinator Kelly Robinson. Meghan offers job follow-up; Sarah is working with John to find permanent, affordable housing; and Kelly helps him manage his medications and therapy.
For the past year, John also worked with another Rise employment consultant. "Nyla [Reath] was so helpful with my job search because I didn't have a computer and the public libraries were shut down due to the pandemic," John remembers. "She helped me put together my resume, apply for jobs, practice interviewing, and handle all the paperwork.
"Because of my memory issues, Kelly was able to get me a computer tablet paid for by the Westat project which is like a portable office. That has made it so much easier for me to communicate with my team as well as remember important information and appointments so I can better prioritize my time."
John worked for four months in the hospitality / concession areas at U.S. Bank Stadium in downtown Minneapolis during Minnesota Vikings games and concerts. Then the COVID pandemic hit and the stadium closed. John kicked his job search back into high gear.
During his interview for a position with Burlington Coat Factory, John learned of the company's extensive coat donation project for people in need. "That really spoke to me as I am very involved in homelessness issues and understand the need. I wanted to work for a company that gives back to the community." John started working at Burlington as a stock clerk in March; he receives and processes incoming merchandise, stocks the sales floor, and assists customers.
"I'm an 'old-school' kind of guy," he added. "I come to work with an upbeat attitude, enjoy working with my diverse co-workers, and provide good customer service."
"John has been pleasure to work with and get to know personally," said Receiving Supervisor George Sears. "He is always a source of positive energy that fuels the team to get through the day. You would never know the adversity Mr. Bradley has had to deal with given his positive demeanor. John leads by example and is a natural mentor."
As John can relate to anyone who shares his precarious housing situation, he has become an avid advocate for the homeless with a group called Freedom from the Streets. He actively works with faith leaders and community partners to increase awareness and understanding of the need for affordable housing as well as change public policies through state and local legislation and bonding. In June 2019, they recognized John with a Community Hero award.
"John has a go-getter attitude and infectious personality," said SED Program Supervisor Nancee Magistad. "Combine those two qualities and you have an amazing force to be reckoned with. I think John's greatest strength is his passion for serving his community and his passion to produce results at work. I am inspired by his perseverance, grace, and work ethic."
"The Twin Cities has been THE BEST THING for me," John added. "I feel strongly about doing what I can to take positive steps toward helping those who are vulnerable and building a better community."
This article appears in the December 202 issue of the Rise Reporter.