Andy enjoys working independently, but part of a team at Design Ready Controls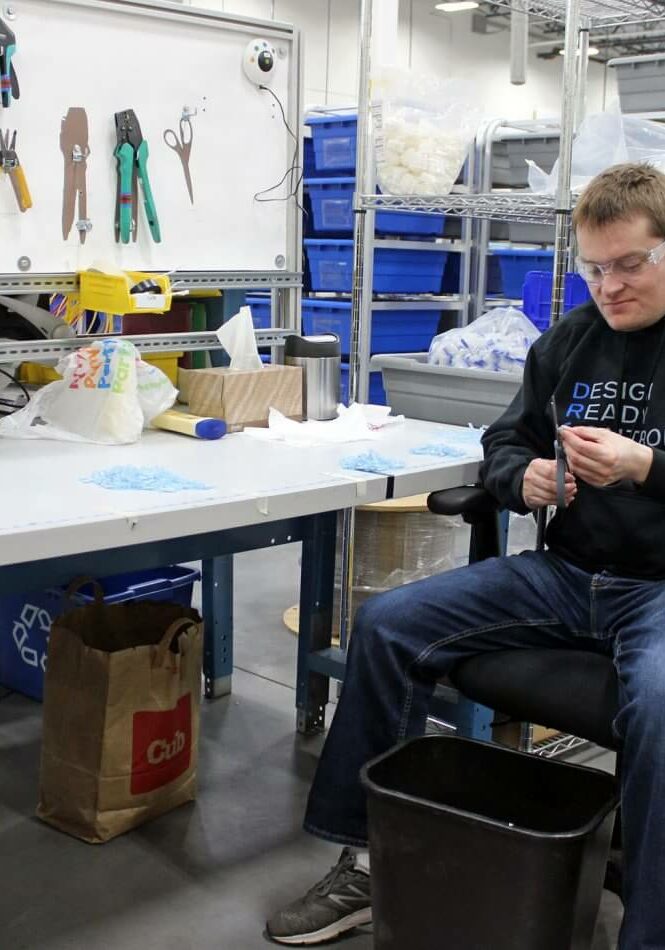 By LeeAnna White, Advancement Intern
Walking through the brightly lit, expansive Design Ready Controls (DRC) in Brooklyn Park, one is immediately impressed with the quiet efficiency of the expansive production facility. In the middle of all the action sits Andy Brown at his neat and orderly workstation, hard at work with a big smile on his face.
"I like to keep an organized workstation because it helps me work more efficiently," he said proudly. "I keep spare pieces close by because you never know when a piece may be missing and then I have it right here. This work is easy because everything is like a puzzle piece and I love puzzles."
DRC provides engineering and manufacturing services to customers around the world in a wide range of industries, including HVAC, construction, water treatment and pumping, oil and gas, solar power, agriculture, alternative energy, and semiconductors.
DRC co-workers stop to greet Andy and check on his day as they walk by. He says his coworkers are friendly and helpful and everyone works together as a team.
Andy, who is 37, graduated Park Center High School in 2002; he is proud to have earned all A's, one B and one C in his school career, and skipped the 9th grade. After high school Andy worked a few short-term positions and then found a job as a production worker at Liberty Carton in Brooklyn Park which better matched his interests and skills. He was an integral member of a Rise work team there for 16 years.
Andy eventually decided that he was ready to take on more challenges and wanted to work more independently. When Program Manager Keith Hovland learned of a good job at DRC, he was confident Andy was just the right person for it.
Andy started as a part-time assembler in May 2019. Before his departure from Liberty, Andy's coworkers threw him a farewell party to show their appreciation for him as well as their excitement for his future endeavors.
Andy exudes confidence and is extremely knowledgeable about his work. "I do fine working by myself. As soon as I get here, I go straight to work. I love the new projects and challenges. Once I have all the information, I can go quick. And of course, I love the big paycheck."
Andy has made friends here and his coworkers appreciate his hard work and efficiency.
"Andy is a dedicated and wonderful employee who shows up each day and does an outstanding job," said Plant Manager Mark Oaks.
"Andy is fun to have working with us," Mark added. "He comes in with a smile on his face and leaves with a smile his face."
Rise Program Supervisor [then Employment Consultant] Matt Hansen checked in every Wednesday with Andy and his supervisors to address any work-related issues he may have. Matt says, "Andy passes all his safety trainings with flying colors and his supervisors often rave about him."
When Andy isn't working, he is remodeling his townhome with the help of his dad who lives nearby. Andy has enjoyed playing hockey with a Special Olympics team, The Thunder, since 2003, and alternates between the wing and center positions. He was excited to play in the state tournament at the end of February.
Andy hopes that his success at DRC will inspire others to know that they can also be successful.
This article appears in the March 2020 issue of the Rise Reporter.