Where's Jean?! Enjoying her well-deserved retirement!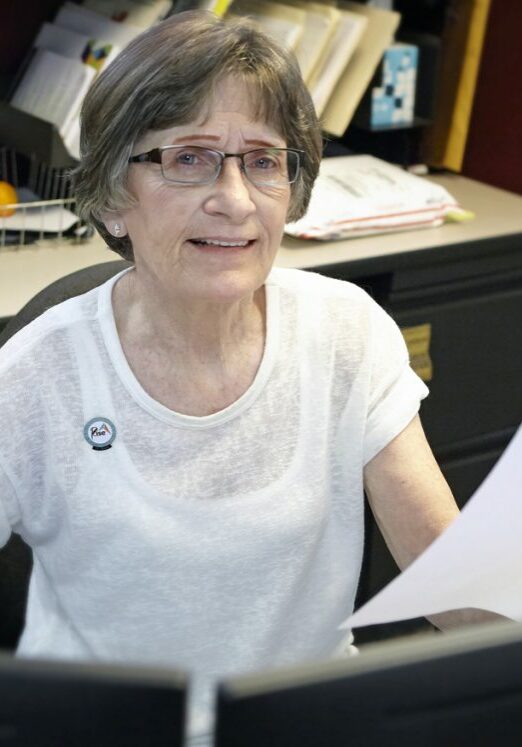 Between greeting guests, answering the phones, and responding to people's immediate needs, Receptionist Jean Stephenson was kept hopping at the front desk of Rise's administrative offices in Spring Lake Park. Considered by Rise team members and the people we serve to be "the heart" of this office, it was a bittersweet day when Jean retired September 4!
Jean and her husband Ted moved from Rapid City, South Dakota, in 2000 to be closer to their daughter Teri's growing family. She was hoping to find a good job that was close to her new home in Fridley since she wasn't that familiar with the Twin Cities area.
"My first job many years ago was with a nonprofit organization and my daughter Kelly had disabilities, so I was really attracted to Rise," Jean remembers. "At first, I didn't know what the parameters would be as a receptionist, but I quickly realized that my job would be doing whatever I could do to help people throughout the day. I have really enjoyed the interactions I've had with so many different people – the public, the people we serve, their families and support staff, my co-workers, Rise's business partners. It was fun to have such a mix of activity."
"Jean has been an incredible gem for Rise and I'm so happy for her to be entering this new phase of her life," said President Lynn Noren.
"She has been our ambassador to every visitor who steps inside. One of the things I admire most about Jean is the way she interacts with the people we serve and their families. She is so respectful and supportive; she takes the time to get to know them in such a genuine way. Jean made all of us feel welcomed every day.We are really going to miss her."
In her almost 18 years at the front desk, Jean has undoubtedly answered thousands of phone calls. But one stands out in particular – a call from the White House!
"I had to ask twice WHO was calling, and even then, I didn't really believe it," Jean remembers. "But I put the call through anyway and was later surprised to find out it really was someone from the White House calling. Almost every day, I have had a fun story to tell Ted when I got home from work!"
When Jean was not at her front desk, her replacement was almost always asked, "Where's Jean and when will she be back?" Sometimes, people would wait until she returned, claiming she was the only one who could really assist.
"I've gotten to know a lot of people pretty well over the years," said Jean. "It's been really rewarding for me to help people and be there for them. Sometimes people just need another person to listen to them even if you can't really do anything to fix the situation."
Jean said she finds it exciting to see all the progress people have made in their own work experiences and careers over the years, especially those who have traumatic brain injuries and sensory disabilities.
"People are so motivated to better their lives through work," she observed. "I also give a lot of credit to Rise's staff, county social workers, and their family members. Rise's program services have proven to be very successful."
Jean notes that she feels she herself has changed some in this position. "I think I have become more tolerant and empathetic over the years. I have a better understanding of the many kinds of challenges people face."
"It sure won't be the same around here without Jean," said Kevin Whitley who is served at Rise. "She is pretty marvelous and did her job so well. She has big shoes to fill. Lucky for all of us that Tracy [Dock-Masanz, who had worked in Rise's accounting department] is our new receptionist."
Jean is really looking forward to not setting an alarm to get up early. She also plans to travel and spend more time with her family.