Service is at the heart of everything we do at Rise. You can help! There are many ways you can give your time and talents to help us further the important work we do.  As a first step to getting involved, fill out our volunteer application.
Read more about how volunteers find many ways to support Rise.
Administrative Services
Do you have good organizational skills and love details? Support Rise's Development operations at Rise's Spring Lake Park location: 8406 Sunset Road N.E. Weekly or bi-weekly commitment with flexible hours.
Special Events
Rise hosts a variety of community events throughout the year, including our Celebrate Rise Fundraising Gala and Art Speaks artwork exhibits. Would you like to help us plan, set up, and/or work at a special event?
Michael's Closet
Michael's Closet is a clothing 'boutique' where people can find professional clothing and accessories for  job interviews and work at no cost. Michael's Closet volunteers ensure this valuable resource are maintained and can be utilized by the people we serve.
Volunteers' duties include sorting and organizing clothes, assisting team members and the people we serve "shop" for needed items, as well as accepting donations. Two to three hours weekly, between 8:30 -4 p.m. at our Spring Lake Park Location. Michael's Closet is located in our Spring Lake Park office at 8406 Sunset Road N.E. Check out the volunteer job description under Downloads.
See why Lauren Kozlak likes to volunteer with Michael's Closet.
Art Speaks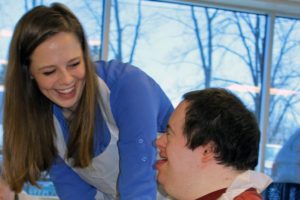 Would you like to help people find their voice through art? Art Speaks is Rise's art therapy program that allows the people we serve express themselves through a variety of art mediums. As a volunteer, you provide an invaluable extra set of hands to set up art supplies and assist artists in creating their work. Volunteers make it possible for more of the people we serve to participate at one time!
We are flexible to your needs. Come once a month, bi-weekly, or every week. Choose a location and time that works best for you! Bloomington: Mondays, 12pm – 1pm; Crystal: Tuesdays, 12:30pm – 1:15pm; or Wednesdays, 12:45pm – 1:30pm; Anoka: Fridays, 12pm – 1pm.
Read Katie Dennis's story about how she enjoys volunteering with Art Speaks.
Adult Day YMCA Recreation
Rise's Adult Day Program offers recreational and leisure activities for people with disabilities at the Mounds View YMCA. Everyday there is a free hour during which the people we serve can participate in a wide variety of activities, including games, basketball or floor hockey, puzzles, wii game, walking the track, hand bikes, arts and crafts, etc.
We are seeking upbeat volunteers to participate and assist these groups. Monday through Friday, 9:30 – 11:30 or 11:30 – 1pm at the Mounds View YMCA.
Mock and Informational Interviewers
Assist job-seekers in honing their interviewing skills and provide valuable feedback to them so they can better prepare for important job interviews. This is an on-call opportunity and based on your availability.
Lunch Pal
Want to make someone's day? Would you like to meet interesting people? Enjoy playing cards? Many of the people we serve like to play cards, read the newspaper, or chat with people during their lunch break. We are seeking volunteers to come play, talk, listen and befriend the people we serve.  Monday through Friday, 11:30am – 1pm at our Spring Lake Park location.
Special Projects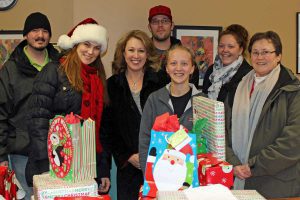 Support Rise by volunteering individually or as a group for special projects throughout the year. Would you be interested in helping with gardening or painting at our office sites? Perhaps you'd like to go on community outings with people we serve or conduct mock job interviews for job-seekers. Maybe you have highly technical skills like engineering or computer sciences and could help us with a specific project.
We also have great opportunities you can do with your work team, community group, or friends and family. We can send you a volunteer opportunities packet to give you ideas on great ways to support our organization at a time and location that is best for you.
Call us today to see what special projects are available.
Check out this article about a special volunteer project Wells Fargo employees conducted in November 2014.
Internship Opportunities
Throughout the year, Rise has various internship opportunities in different program and administrative areas. Internship opportunities include, but are not limited to, job placement services, development (fundraising), special events projects, and governmental / legislative affairs.
Please check the Downloads section to the right to learn more about current internship availability. If you see something you are interested in, please complete this internship application form and send your resume and cover letter to the supervisor listed on the posting. Make sure to check back because additional internships may be posted throughout the year!
Find out more
To find out more about volunteer opportunities, email our volunteer department, or call 763-792-2454.
Already know you want to help?! Fill out the volunteer application to get involved!
Meet some of our great volunteers!