WE'D LIKE YOU TO MEET BRIANA BERGERON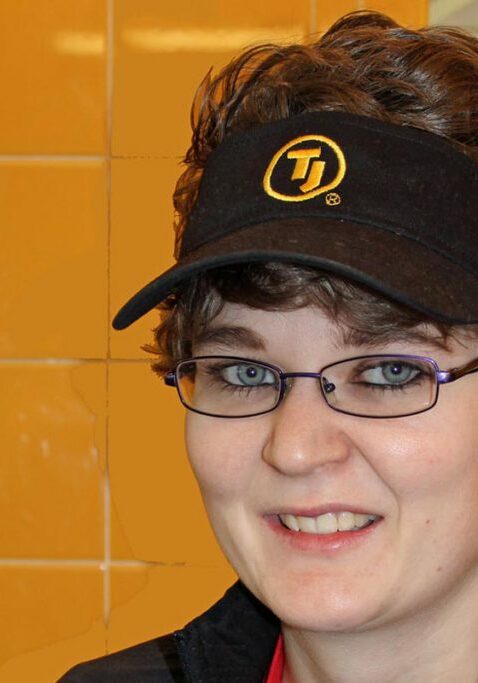 Posted on Jan 30, 2017 | Tags: |
Briana Bergeron's ability to quickly learn new job tasks and her solid work ethic make her a valued employee at the Taco John's restaurant in Forest Lake where she has worked three days a week since July 2016.
Equally appreciative of her reliability and hard work are her Employment Innovations co-workers with whom she cleans a number of business sites throughout the East Central Minnesota area two days a week. In the summer, Briana also worked on the lawn crews which had mowing and trimming contracts throughout the area.
Briana came to Rise's Employment Innovations program in Lindstrom in August 2014 for career planning and employment services. She seems to thrive on the variety of work and enjoys shaking up her work week.
"At Taco John's, I take orders and run the cash register, work at the drive-through window, do some food prep, and clean the lobby and dining room areas," said Briana proudly. "I have really nice co-workers and I think they like the work I do."
She also noted that "Taco Tuesdays" is an especially busy day in the restaurant and one of her favorite days to work.
Dawn Pearson was the Taco John manager who hired and worked with Briana at the Forest Lake restaurant before transferring to another store. Dawn says, "Briana is a true asset to the Forest Lake Taco John and working with her was an absolute pleasure. Our guests frequently compliment her on her great work ethic and friendliness – she actually has quite a following of people who will ask for her specifically when they come in to dine. Briana takes her work seriously and is diligent about safety and procedures. But she also really enjoys her job so others respond positively to her. You just don't find many employees like Briana!"
Katie Miller, employment support specialist, checks in with Briana about once a week to help ensure everything continues to go well on the job.
"When Briana and her mom took their annual trip to Las Vegas in December, she was really missed by her co-workers at Taco John's," said Katie. "They were very happy when she returned."
Briana and her mom enjoyed playing a few slot machines and going to Vegas productions. "My favorite was Carrot Top!" she added. And just as advertised, the two women "laughed until they were orange in the hair!"
A 2012 graduate of Cambridge-Isanti High School, Briana lives in a group home in North Branch with two roommates. In her free time, Briana enjoys spending time watching movies and TV, listening to music, playing computer games, reading her Bible, and participating in activities at her church.
She has also competed in Special Olympics since 2007 in bowling and swimming.  Briana swims in the breast stroke, backstroke, front crawl, and freestyle events with her team, Flyaway Gold.