JOANNA'S A PERFECT FIT FOR WARNER'S STELLIAN APPLIANCE STORE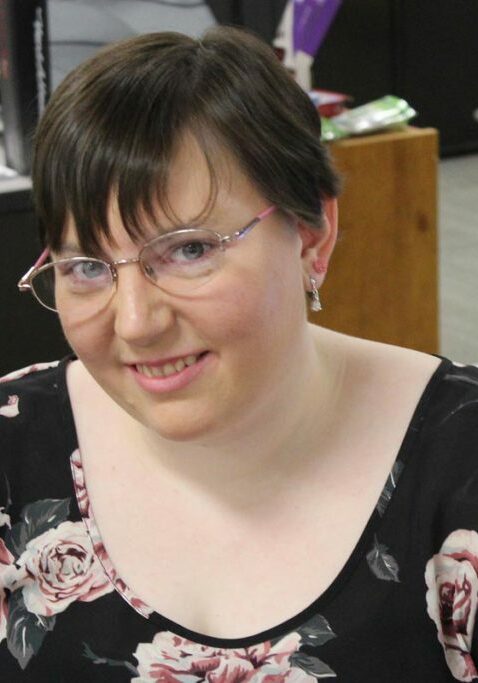 Posted on Feb 20, 2017
MOST MINNESOTANS KNOW that if they are looking to purchase home appliances, they will likely find just what they need at a Warners' Stellian Appliance store. Family-owned since 1954, they offer quality products, installation, and service.
As an administrative assistant / receptionist at the Maple Grove store, one of Joanna Douthitt's primary duties is to help ensure incoming customers are matched with a sales representative in a timely manner. Her friendly, welcoming personality makes her a natural for the position.
"I love this job because I get to meet and talk with so many nice people – it's always interesting," said Joanna. "And I work with the coolest people ever."
In her senior year at Coon Rapids High School, Joanna volunteered at a school where she did a number of administrative and clerical tasks. She discovered she really enjoyed working in an office.
When she came to Rise for employment services in 2010, Joanna wanted to hone her clerical skills so she worked in Rise's Accounting Department and at the front office reception desk.
With assistance from a Rise job placement specialist, Joanna was hired as a cashier at a Target store where she worked successfully for four years. A back ailment forced her to find a new job that didn't require her to be on her feet so much.
Together with Rise Placement Specialist Cid Rode, Joanna developed an updated resume and cover letter. When she found a posting for an administrative assistant at Warners' Stellian Appliance store, it was the just job she wanted!
Joanna nailed the interview and was hired in May 2016. She currently works part-time, mostly evenings and weekends.
"I love getting to do so many different things," said Joanna. "Besides greeting people and finding them a sales person, I transfer sales calls, set up and manage customer service calls, and run a credit report to make sure all the sales transactions match up and are reconciled. I also write up appliance accessory sales like water filters or kits for outdoor grills – I earn a commission for those!
"It's a lot of responsibility, but I'm good with details and am a good multi-tasker," Joanna added proudly. "I also know I can ask for help if I need it because I have really wonderful co-workers."
"Joanna has been a great addition to our team," said Store Manager Tim Warner. "Her friendly personality, flexibility and adaptiveness are all things we value at Warners' Stellian. We appreciate Joanna and look forward to working with her for a long time."
"Since Joanna started working at Warners' Stellian, her confidence has grown and she has become much more of a self-advocate," Cid noted. "Working at a job she loves and where she feels valued are key to her success."
Newly engaged, Joanna and her fiancé Patrick, who works at a Walgreens store in Minneapolis, are busy planning for their future. They are considering a wedding in Las Vegas and will be looking for an apartment soon. In their free time, they enjoy movies, music, and computers.
"It can get crazy-busy, but I just love it!" said Joanna.
This article appeared in the March 2017 issue of the Rise Reporter.