Story 15 – Laurie Zschokke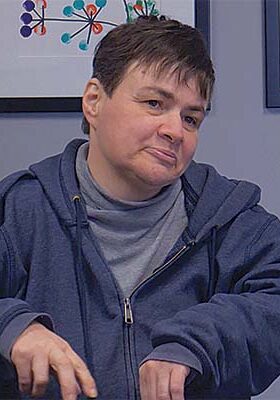 Laurie Zschokke's work has made an impact on nearly every Rise team member and person served.
As a data entry clerk with our DataAbility team for 20 years, she has been instrumental in business processes, including payroll system updates, vehicle fleet maintenance tracking and monthly fuel cost verifications.
"I like doing the variety of work and being with the people I work with." Zschokke said. "I'm a good worker."
She is also an advocate for Rise and for Minnesotans who have disabilities outside of the work. Zschokke has been to the Capitol to meet with and lobby her state legislators, allowing her to build a wide range of community connections.
Zschokke is a cancer survivor who triumphed over a battle with non-Hodgkin's lymphoma nearly 10 years ago. She continued work while receiving treatment, so it should not surprise you she was among the workers who returned in 2020 after the pandemic shutdown. "I'm ready to work. Let's go!" she said at the time.
She is passionate about more than just work. She enjoys art projects and team outings to places like the Minnesota Zoo and trips to local orchards and making iPad drawings.