Ruth Howard, part-time volunteer, Diet Coke enthusiast, and full-time grandmother, enjoys keeping busy!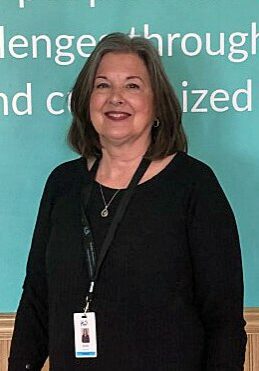 By Advancement Team Intern LeeAnna White
When Ruth learned about Rise's important mission through her sister, it piqued her interest in volunteering. With her vibrant personality, Ruth has been an invaluable volunteer supporting Human Resources (HR) and Administrative team members at Rise Spring Lake Park for the past six months.
Ruth always has been a person who enjoys staying busy, especially now that she has retired from a career as an accountant controller.
"I've always loved volunteering," she said. "I was often involved with my kids' school when they were younger."
This past October, Ruth met with Rise's Volunteer & Recruitment Coordinator Shannon Widstrom to see what kind of work best suited her interests. Shannon quickly realized that Ruth's organizational skills and outgoing personality would be a great fit.
"Ruth has been a great addition to our Rise team," said Shannon. "Her skill set aligns perfectly with what the HR team was looking for, and she is always willing to tackle any project we throw her way, from filing to creating fun party decorations for our programs. Ruth has a warm personality and has become a part of the fabric that makes up Spring Lake Park."
Ruth said she really feels like a part of the team and enjoys coming in every Tuesday and Thursday for four hours to help with administrative tasks. "Someone has to do it; I've always believed in teamwork and treating everyone the same. Everyone is a valuable member of the team, from the dishwasher to the CEO."
When Ruth isn't volunteering, she delights in spending time with her grandchildren, cooking, and learning from history documentaries.