Rise Team Member Spotlight: Tate Wegleitner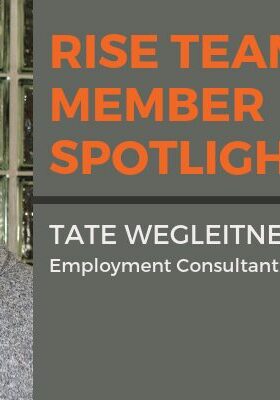 At Rise, employment consultants have a big job. They work to familiarize themselves with people's skills and connect them with employers so they can thrive in meaningful work. Tate Wegleitner is one of those consultants, acting as both a recruiter and as a resource for people with questions about the hiring process.
When you ask Tate why he loves what he does for Rise, he has a quick answer. "I enjoy coming to work every day because I get to help people find the right job," Tate says. Tate's job is one that he has focused on for a long time, even before he joined Rise. But being a part of this great organization has seemed to re-ignite his passion.
Tate generally spends his days building and maintaining connections and relationships. He manages a network of contacts who need employees and then makes connections between the people at Rise and prospective employers. Tate is happy to serve as a resource for people as they navigate the hiring process, offering guidance, answering questions, or offering advice on the paperwork that comes with starting a new job.
Once someone is hired, however, it isn't the end of Tate's support for them. Another significant part of Tate's job is staying in contact with the people to keep up with their progress. He's there for people to help ensure their job is going well, to see if they need any more support to be successful, or if it just isn't quite the right fit.
Overall, Tate says that his favorite part of working at Rise is advocating for people. Throughout the career planning and job search processes, he gets to know their skills and their potential; he works to portray that to prospective employers and enjoys seeing people working in a job in which they are personally and professionally successful.
"The job isn't so much about finding people a job," Tate says, "but finding the right job for each person."
Before Tate joined Rise, he was doing a very similar job which he enjoyed. But when a friend encouraged him to apply at Rise, he took the opportunity to check out the agency. What Tate most enjoys most in his position at Rise are the people he gets to work with every day, the flexibility and support the job offers him, and how Rise makes him feel genuinely appreciated for his work.
In his words, "At Rise, the little things we do everyday matter, and that goes a long way. Team members are always ready to go the extra mile to support each other and the people that we serve."
Outside of work, Tate loves the outdoors and spends as much time as he can playing hockey, disc golf, and volunteering.
Rise is proud to have passionate individuals like Tate helping us carry out our mission.
Are you looking for an exciting new job opportunity? Check out our open careers today.